Natalia Marques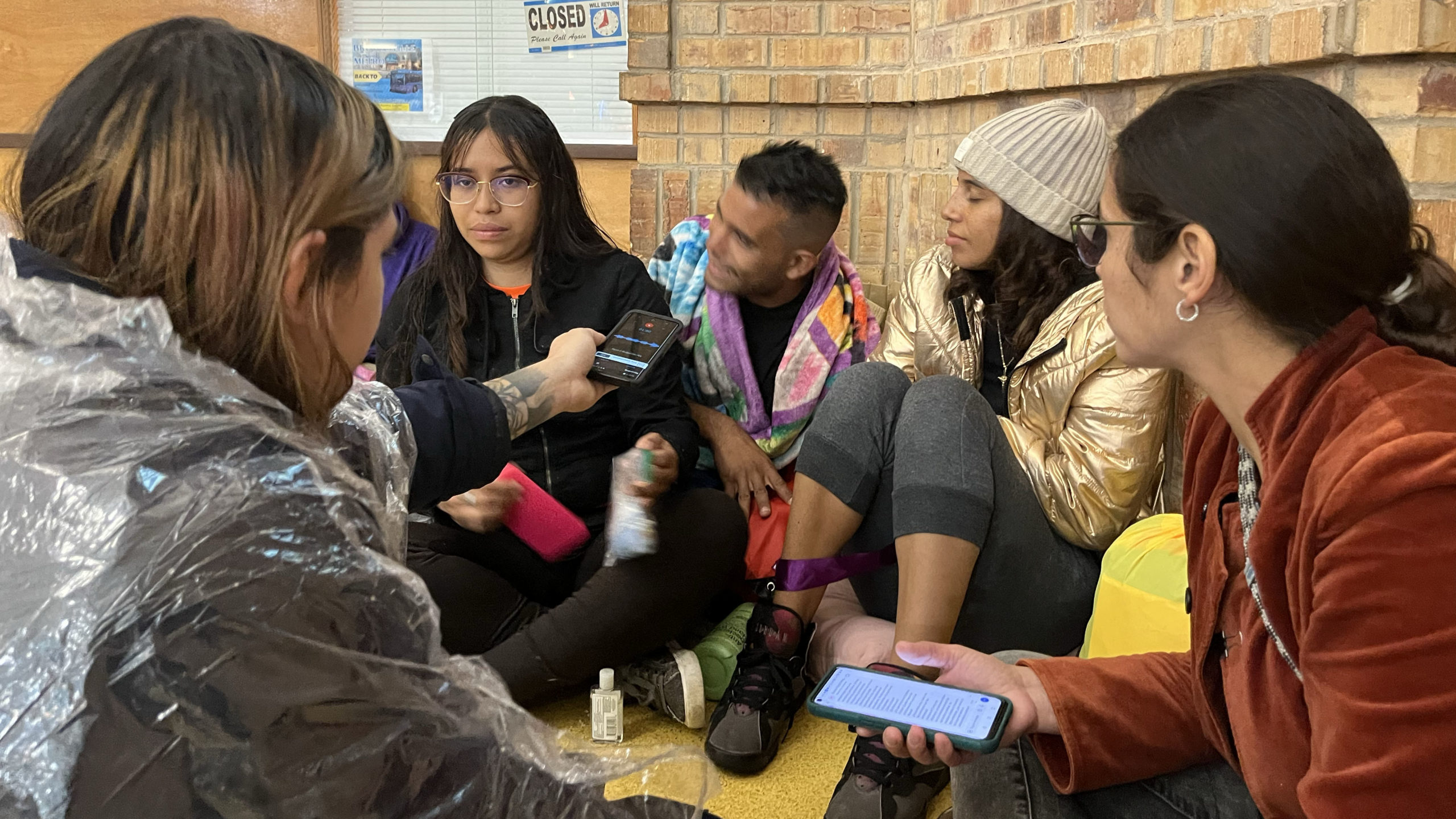 Migrants are interviewed as they wait in the La Plaza bus terminal in Brownsville, Texas (Photo: The Party for Socialism and Liberation)
Thousands of migrants, driven by economic warfare waged by the US, find themselves in conditions of despair at the southern US border
There is a humanitarian crisis at the southern border of the United States, where thousands of migrants are attempting to enter the country in search of a better life, only to find themselves in desperate need of food, shelter, and work.
On May 11, Title 42, which used the COVID-19 emergency as an excuse to swiftly expel migrants at the southern border, expired. Title 42 was implemented by former president Donald Trump, notorious for his extreme anti-immigrant stance. Many in the United States were expecting a massive influx of migrants attempting to cross the border right after the policy expired, however early reporting suggests that the uptick in migration is much smaller than expected.
Despite promises to have a "humane" immigration policy, current US President Joe Biden, already put in place his strictest immigration policy yet to replace Title 42. Biden's "transit ban" places impossible demands on migrants seeking a better life in the United States. Migrants have to apply for asylum in each country they pass through before reaching the United States, and be rejected, before they can be eligible in the US. Migrants must also download a smartphone app, CBP One, which is prone to glitches, in order to make an appointment with an immigration official.
Despite the fact that this policy is already experiencing legal challenges, it is still affecting the lives of migrants here and now. San Antonio resident Kaden Thaxton, who traveled across the Southern US border to talk to asylum seekers, told Peoples Dispatch that migrants are often robbed of their belongings on the journey to the US, and many arrive without phones.
Roger, who traveled for over a month from Venezuela to reach the US border and is now camping outside in the Mexican border town of Matamoros, had his phone stolen during his journey. He cannot download the CBP One app. "The policies of the United States [in regard to immigration] have always been a bit severe," he said.
"We are not here because we want to be here." said another Venezuelan migrant camping in Matamoros, home to one of the largest migrant camps in Mexico. "There are people that have been here two, three, four months, some five days, others ten months." Migrants entering through the southern border are primarily Mexicans, Salvadoreans, Guatemalans, or Hondurans, although the share from Mexico has shrunk over the past decade and a half. Many Haitians are also fleeing their home country to the US because of the recent political crises.
Only a few years ago, most apprehensions of migrants at the southern border involved migrants from Mexico and the "Northern Triangle" (El Salvador, Guatemala, Honduras) but this is no longer the case and now migrants from other countries are primarily those apprehended at the border.
Thaxton also observed that some migrants staying in Matamoros camp have been there as long as ten months. "It's insane the amount of time that people are having to wait in these terrible conditions." he said.
One migrant in Matamoros camp reported that his wife was taken away by US immigration agents, and he has not seen her since. "Since yesterday, the day before yesterday, the men were taken out one way and the women to another side. I have no communication with my partner." he said. "I have ultrasounds, she's 32 months pregnant and I haven't heard anything [about her]. I ask here [immigration] and they don't give me information." Another migrant claimed, "There are several such cases of pregnant women, whom no one knows if they were released, if they were sent back."
Many migrants are imprisoned as soon as they enter the United States. Blenden and Jon, two migrants providing haircuts to make some quick cash in Brownsville for their survival, were both detained upon entry. Blenden was imprisoned for three days. Jon said, "I spent a day and a half in the cold room. Thank God we made it through as many of our friends were returned. There are many people here who are still waiting for their families and they hope they will make it through."
Many argue that the humanitarian crisis of migrants attempting to enter the US through its southern border is the result of outside economic pressures. As Liberation News wrote in 2013, "today, migration is caused less by natural inadequacies and more by countries' integration into a global economy organized around the profit motive, and the deliberate underdevelopment of certain countries to the benefit of others."
The legacy of mass migration from Latin America has additional root causes, such as the neoliberal policies that have been imposed on the continent, like the NAFTA treaty of 1994. As early as 2006 the Social Science Research Council published an analysis which stated, "Before [the North American Free Trade Agreement], undocumented Mexican immigration came mainly from four or five Mexican states and a limited number of mostly rural municipalities. Since NAFTA, migrants have originated in all Mexican states, practically all municipalities, and cities as well as towns and villages."
Cultural anthropologist Megan Carney argues that neoliberal policies imposed on the people of Latin America have "created a demand for a source of cheap, surplus labor," through "trade liberalization, privatization of basic services, deregulation of markets that have increasingly displaced people from rural livelihoods in Central America and rural Mexico," thus fueling mass migration.
Migration from Mexico has decreased since the 2000s due to lower labor demand for Mexican migrants following the Great Recession and stricter US immigration policies, but has recently increased which some believe is a result of rising poverty and inequality precipitated by the pandemic.
The role of sanctions
Jose Montoya, an immigrant from Nicaragua who came to Texas 15 years ago, spoke to migrants at Matamoros, who he said were "very aware" of how the unilateral coercive measures, or sanctions, imposed by the US against more than 30 countries worldwide, including Venezuela, Cuba, and Nicaragua, are "not really helping anyone". "They end up affecting regular working people," he said.
New Jersey Senator Bob Menendez, who spearheads the sanctions regime from his post on the Senate Foreign Affairs committee, recently blasted progressive politicians for urging Biden to lift sanctions.
"Removing US sanctions on Cuba and Venezuela will only betray our democratic values and further empower criminal dictators. Such an approach would do nothing to resolve the underlying factors driving these crises, nor address the broader hemispheric challenges that are leading to unprecedented levels of migration," he stated.
Amilcar, also a Venezuelan migrant staying at the Matamoros camp, said of the US sanctions against his home country, "The effect has been that there's money that doesn't come back to the people. Just like with the petroleum, the refineries, the agreements, all of that affects the entire population." When asked if alleviating sanctions would help the Venezuelan people, Almicar responded, "Of course."