Nicaragua supports Russia's efforts to ensure security and stability at the international level, Nicaraguan Foreign Minister Denis Moncada Colindres said during talks with his Russian counterpart Sergey Lavrov on Thursday.
Moncada is in Moscow accompanied by a high-profile government delegation, which includes representatives from several Nicaraguan agencies and departments.
"Our government also continues supporting Russia in its foreign policy and all of its efforts in the sphere of security and stability at the international level," Nicaragua's top diplomat said, pointing to stronger bilateral relations, "consolidation, friendship and cooperation between our countries."
Russia and Nicaragua "have the right to exist as free, sovereign and independent countries," ensure security and preserve their integrity, the Nicaraguan foreign minister stressed.
Moscow and Managua have confirmed their intention to deepen economic cooperation between the two countries, Lavrov told a press conference following talks with his Nicaraguan counterpart.
"We confirmed readiness to further expand trade and economic cooperation," he said. "In present-day conditions it slightly lags behind the rates we would like it to demonstrate," the minister added.
In this respect the parties agreed on employing the potential of the intergovernmental Russian-Nicaraguan commission on trade-economic and scientific-technical cooperation, he noted.
Foreign Minister Sergey Lavrov's opening remarks during talks with Foreign Minister of the Republic of Nicaragua Denis Moncada, Moscow, March 30, 2023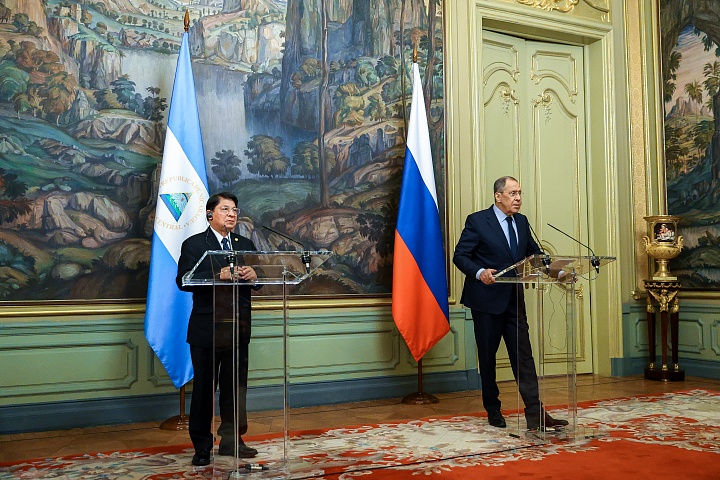 Mr Minister,
Friends,
We are delighted to meet with you once again. We value our regular contacts at various levels.
You have come to Moscow accompanied by a high-profile government delegation, which includes representatives from several agencies and departments, as we have discussed in our recent telephone conversation. This offers us an excellent opportunity to compare notes on all matters pertaining to our bilateral agenda.
Your delegation members are scheduled to hold many meetings with their Russian partners, which will give it an objective insight into the implementation status of the agreements signed at the highest level with a view to promoting our strategic partnership. This review will pave the way to outlining new objectives, and we will direct our governments to achieve them.
Today, we have a great opportunity to discuss international and regional matters. The situation in Latin America and the Caribbean is changing rapidly. As strategic and like-minded partners who stand for the principles of international law, we must be proactive in defending justice in international affairs.
The Ministry of Foreign Affairs of the Russian Federation
Address and answers to questions of the media by Minister of Foreign Affairs of the Russian Federation Sergey Lavrov at the joint press conference with Minister of Foreign Affairs of Nicaragua D. Moncada following negotiations, Moscow, 30 March 2023
Ladies and gentlemen,
We have had talks with the Nicaraguan delegation led by Minister of Foreign Affairs Denis Moncada and the Special Representative of the President of Nicaragua for developing relations with the Russian Federation, Larry Ortega. The delegation also includes representatives from other structures of the Nicaraguan government, including the economy, health care, law enforcement and security services. This is a solid interdepartmental delegation, which has scheduled more than a dozen meetings during its three-day stay in Moscow. There will be a comprehensive inventory of all areas of our cooperation, the results achieved, the tasks to accelerate in the areas that are lagging now, as well as the identification of further goals in accordance with the agreements reached between our countries at the highest level.
We are linked by a close strategic partnership. They are based on the deep mutual sympathy of the peoples of Russia and Nicaragua, on the experience of working together to uphold the justice of international law on the world stage, on the experience of overcoming the illegal difficulties which the U.S. and its satellites create for the normal development and life of independent and non-dictatorial states.
We have intensive political dialogue at the highest and highest levels, contacts among all ministries and departments, established inter-parliamentary dialogue and cooperation among municipalities, twin cities, institutions of higher education, and civil society.
We confirmed our readiness to further increase trade and economic cooperation under current conditions. It is somewhat lagging behind the pace that we would like to give it. In this regard, we agreed to use the potential of the Russian-Nicaraguan intergovernmental commission on trade, economic, scientific and technical cooperation.
We positively assessed the implementation of a number of significant bilateral projects. I would like to mention the successful multi-year work of the joint biotechnological enterprise "Mechnikov" JSC in Managua, which supplies medicines and vaccines that are in demand in Nicaragua and other countries of the region. Today we have agreed on far-reaching plans in this area.
The Training Center (branch) of the Siberian Law Institute of the Ministry of Internal Affairs of Russia, where law enforcement officers from Central America and the Caribbean, and not only from Nicaragua, are trained, is actively functioning. This is an all-regional structure.
A GLONASS ground station is in operation. Today we discussed plans for further cooperation in the peaceful use of outer space.
On the agenda is the elaboration of additional supply of Russian grain and automotive equipment to the Nicaraguan market, assistance in the modernization of infrastructure, in the development of a national system of prevention and elimination of emergencies, in the field of peaceful atom. This topic was paid special attention during the relevant meetings of Mr. Minister's delegation. Military and military-technical cooperation traditionally occupies a priority place in our contacts. It also has good opportunities for further development.
We also talked about the development of scientific, technical, cultural and humanitarian exchanges, including education. We regularly give our Nicaraguan friends scholarships to study at Russian institutions of higher education, including nuclear power and non-energy applications of the peaceful atom, as well as law enforcement.
We highly value our cooperation in the international arena. We share the same positions on the key issues of our time, based on the UN Charter, above all on the principle of the sovereign equality of states and non-interference in their internal affairs. We reject diktat and pressure that are increasingly spreading in the world as a result of the Western countries' transition to blackmail and threats instead of diplomacy, including the use of illegitimate sanctions and other methods, up to and including force.
We will cooperate closely through the Group of Friends for the Defense of the UN Charter, established a couple of years ago. It already includes two dozen states and will be further strengthened.
We are in favor of the further promotion of dialogue and cooperation between Russia and the leading associations of Latin America and the Caribbean. First of all, I mean CELAC, which unites all the countries of this large and rapidly developing region. We also have good relations with the Central American Integration System, where Russia will soon have observer status. The relevant agreement is already ready. I will also note the good relations of our State Duma deputies and senators with the Central American Parliament.
I think the talks have been useful. I thank our colleagues and friends.
Question: The UN Security Council has rejected Russia's draft resolution on the creation of a commission of inquiry into the terrorist attacks on Northern Streams. What further steps is Moscow and the Russian Foreign Ministry in particular planning to take in this direction?
Sergey Lavrov: It was instructive and instructive to watch how the Western countries were "twisting and turning" at the UN Security Council meeting, if only not to approve the instruction to the Secretary-General to launch an impartial, objective, transparent investigation into the apparent terrorist acts carried out against the Nord Stream pipelines.
Everyone understands that these were terrorist attacks. And that too serious representatives of the West have their heads up their sleeves. They don't want this investigation to be truly objective. In one voice, Western countries and the rest of the UN Security Council members, who joined the group of abstaining states under extreme pressure from the Anglo-Saxons, the French and others, asked, why should they scatter their forces? They said there are national investigations that were initiated by Denmark, Sweden, and Germany. And it is necessary to wait for their results. And then, they say, everything will become clear.
Our next steps will be to keep these national investigations and those who swore they would be enough to establish the truth "off the hook. This will be dealt with meticulously. The topic is far from closed.
We understand the West's ability to lie, to "blue-eyedly" promise something, and then, once again, to be chronically under-involved, including with regard to the investigation of this or that incident.
We remember how many lies the West has told over the last twenty years. The year 2007: the poisoning with "polonium" of Alexander Litvinenko in a London hospital. Immediately we were blamed and punished. Then the process of investigating the incident was classified, calling it "public. British jurisprudence is full of ambiguous terms. In England, "public" means "closed", in which government agencies can classify certain matters.
Here is the UK again: the Skripals poisoning in Salisbury. It was immediately blamed on us on a "highly likely" basis. They refused all our official requests, made in full accordance with international conventions, for information about our nationals. This is a gross violation of all law enforcement cooperation obligations. To this day, no one knows not only about the results of numerous tests conducted on the territory of Salisbury, where the Skripals miraculously survived a "lethal" dose, as the British investigators assure us, but also about where they are. They are our citizens. It is the direct responsibility of those who "hid" them to inform Russia of their whereabouts.
And A.A. Navalny. It was clear to everyone that there was something "fishy" going on here. The most "screaming" example: in Germany, where tests were conducted that allegedly showed the presence of banned chemicals in his blood, they categorically refused to hand over this analysis to Russia. Do you know what they said? That they can't do that, because the analysis was done at the Bundeswehr clinic (Germans didn't find anything in A.A. Navalny's blood in a civil clinic). They said that they wouldn't give us this analysis because that way we could get information about the state of their biological science. This is a rather "interesting" admission. They sent us to the OPCW. They said that they passed everything over there, and they will tell us everything. But the Organization didn't tell us anything either, referred to the fact that this was the property of the German side. This is not surprising, because the OPCW was long ago privatized by the West through measures taken in flagrant violation of the Convention on the Prohibition of Chemical Weapons. Now the leadership of the Technical Secretariat of this organization is blatantly doing the bidding of the Anglo-Saxons, the French and other Western countries.
And there is one more investigation (if we are talking about how much we can hope for fair results of some or other studies of Western justice) concerning the Malaysian Boeing that crashed in July 2014. The investigation was organized in a very "interesting" way. They created an investigation team consisting of the Netherlands, Australia, Belgium and Ukraine. Although the practice of investigating such things is that a country, which can touch the causes of what happened, is not invited. Since the crash happened in the airspace of Ukraine, it was obvious to everybody that it was inexpedient to make such an invitation. Nevertheless, Ukraine was invited. Moreover, Malaysia, whose plane crashed, was not invited. Malaysia was invited only a few months later.
At the first stage the "core group" (Australia, Holland and Belgium together with Ukraine) made a secret agreement: no information not coordinated between the "four" should be released. After that, during the investigation we provided all the data (including primary data) from our radars. Ukraine provided nothing. Neither did the United States, which immediately said that their satellites had seen everything. They said Russia was to blame. But they did not provide anyone with the data from these satellites. And the Dutch court dutifully "lowered its eyes" and said that if the Americans said that their satellites "detected something," that was enough for us, we could not hand over the materials.
The fact that there were more than 12 witnesses and all but one remained anonymous does not bring credit to this investigation and the trial. Nobody knows their names.
I have spoken at such length to be under no illusions about how honestly the West investigates certain incidents in which it is directly responsible, and how honestly and frankly the West can confess to what will be uncovered in one case or another.
Nevertheless, for all the skepticism about how the Western investigation will end, we are not behind them. They have all refused to support an international investigation, citing the impeccability of investigations in their "narrow" circle. I don't think they can get away with it. Or at least, if they continue to twist and turn, their own public opinion will realize what they are worth.