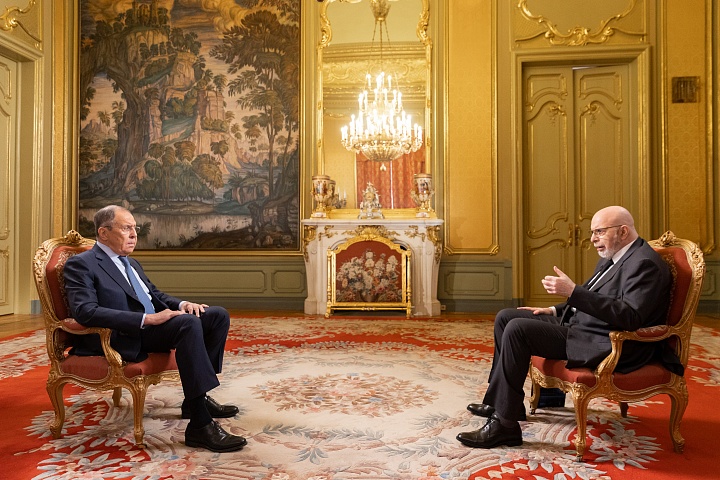 Foreign Minister Sergey Lavrov's interview with Channel One's The Great Game political talk show, Moscow, March 10, 2023
Question: I'll start with a question concerning the latest news. In Tbilisi, the government has in fact met all the demands of the protesters without exception and without any concessions on the part of the protesters. However, we hear that the protests will continue. The protesters' demands are growing. This is starting to resemble the Kiev Maidan in 2014. What's going on? How far do you think it can go?
Sergey Lavrov: It looks very much like the Kiev Maidan. There's no doubt that the law on registering non-governmental organisations that receive foreign funding in the amount of 20 percent of their budget was just a pretext for starting a move to change the government by force.
If you take the law and compare it (as many political scientists did most recently when riots broke out in Tbilisi) to how the activities of non-profit organisations are regulated in the United States, France, India or Israel, you'll notice that it pales in comparison. Comparing these laws shouldn't be a problem.
Violating a similar law in the United States is criminally prosecuted and punishable by a fine of up to $250,000 and up to 5 years in prison. In Georgia, the amounts are immeasurably smaller at about $9,000 and no criminal prosecution.
Despite the fact that a number of European countries have much more severe penalties in that regard, the EU High Representative for Foreign Affairs and Security Policy Josep Borrell, without batting an eyelid, stated that the law the Georgians were promoting (the ruling Georgian Dream Party) goes against European values and puts a block on the path of Georgia's accession to the EU. The hypocrisy is obvious.
The government, the ruling coalition and the ruling parties have announced that they were finally repealing this law (as I heard) and that they are releasing about 170 arrested rabble rousers despite the fact that there is footage of their violent behaviour which is at odds with the democratic norms and should be prosecuted. Nonetheless, the government let them go, but the opposition went on to say that they met them halfway only on the first issue, and now it was time for the government to resign.
The position of the West, including the US State Department which, in a lofty tone, said that this kind of dealing with civil society was untenable causes nothing but a smile. These are the very rules the West keeps talking about. We are talking about international law, and they are talking about the rules which may underlie the international order. In Georgia, the opposition not only can but must do what it wants, whereas protests against the current government in Moldova are being criticised. That's because the opposition in Georgia reflects the interests of the West, while the opposition in Moldova reflects other interests, and the government and the president of Moldova reflect Western interests.
Two similar situations involving protests are unfolding literally before our eyes. In Tbilisi, the protests were far from being peaceful. As you could see, the demonstrators overturned cars and used tear gas and smoke bombs. I don't think any of that is taking place in Chisinau. Even if it were a similar action, the reaction to the protests would be fundamentally different. I think all countries neighbouring the Russian Federation should be aware of the dangers associated with this path of being drawn into the zone of interests and responsibility of the United States. This zone is now spreading all over the world. We've already covered that earlier. It is no coincidence that when the United States and its NATO allies comment on the developments in Ukraine and our special military operation, they demand that the Russian Federation suffer a strategic defeat on the battlefield, making it clear that this is an existential conflict. The interests of the West in the sphere of global security and the prospects for US-led hegemony, as well as the prospects for their dominance in international affairs, depend on how the conflict ends.
Question: I think events in Tbilisi are similar to what happened in Kiev in 2014 in one more respect. At that time, the Yanukovich government was in power in Kiev. Regardless of the accusations, it was not an ally of Russia at all. They were talking about their desire to have association with the European Union and their decision to choose the European path. Doesn't it sound like being a little pregnant?  By choosing the path to the Trans-Atlantic space, these countries, these governments in the post-Soviet space were de facto renouncing a considerable part of their sovereignty. It was difficult for them to protect themselves but they themselves limited Russia's ability to help them.
Sergey Lavrov: Absolutely. I would go back even further to 2004, rather than the 2014 Maidan events. As usual, there were problems with the elections in Ukraine in 2004. At that time, the so-called pro-Russian faction also opposed those whom the West was backing.
I remember very well how EU officials and foreign ministers of the EU countries publicly urged Ukrainian voters to decide whom to side with – either with Russia or with Europe. This either-or rhetoric appeared in 2004 when our relations with the European Union were practically cloudless. We had plans for common spaces and seriously discussed socioeconomic integration. Agreements on easing visa requirements and later transitioning to visa-free travel were beginning to emerge. We also talked about a common space of security and economic development from the English Channel to Vladivostok, to name a few.
The EU adopted a with-us-or-with-Russia philosophy from the earliest days of the geopolitical situation that took shape after the USSR's collapse. President of Russia Vladimir Putin repeatedly spoke about this during conversations and in interviews. In 2013, Ukraine came very close to making a deal on a European Union Association Agreement. We were not told about these talks at the time although Russia and Ukraine had tremendous trade, investment and other economic ties. Our Ukrainian friends, the government of Viktor Yanukovich, were not pro-Ukrainian in the least. They were busy developing close association relations with the EU.
Question: There were even less pro-Russian.
Sergey Lavrov: Of course, that's what I meant. They were talking with the EU without letting us know. We knew the talks were going on but they ignored our polite and delicate requests to share their impressions with us. Russia was not looking to gum up the works, to give permission or assume the role of hegemon. The point is that at these talks they discussed things that were regulated by our relations with Ukraine in other formats, in the CIS where we had a free trade agreement.
We asked questions. If you reduce to zero (as the press put it) all tariffs in trade with the EU, considering that Russia and Ukraine have no tariffs either, a problem will emerge. We do not have zero tariffs with the EU but rather very significant protective tariffs which we haggled over during the long 17 years of our negotiations to join the WTO.
Eventually, President of Ukraine Viktor Yanukovich and his aides realised that this might indeed turn into a problem. If nothing were done, Russia would simply close its border with Ukraine to duty-free imports because otherwise there would be a flood of goods from the EU, from which we protected ourselves with the help of the WTO. So, during the Eastern Partnership summit in the autumn of 2013, Yanukovich asked the EU to postpone the signing of this agreement.
Before this, we had suggested expert consultations in the trilateral format – Russia-Ukraine-European Commission. We wanted to put on the table our existing trade arrangements with Ukraine and the EU and agreements that Brussels and Kiev were going to sign. However, President of the European Commission Jose Manuel Barroso arrogantly said that this was none of our business. He said the EU had no interest in, say, Russia-Canada trade and refused to convene a meeting of experts.
Having realised that the signing of the EU Association Agreement would have serious negative trade and economic consequences if it were not coordinated with Russia and a CIS free trade zone, Yanukovich asked his partners at the Eastern Partnership summit to postpone this process. This request was the trigger for Maidan.
Question: I recall the Lithuanian leaders' indignation: we are ready to talk with Viktor Yanukovich despite all his imperfections. And he behaves so badly.
Sergey Lavrov: They let him into "polite society."
Question: Exactly. Let's turn to the conflict in Ukraine. Today, from the point of view of the "collective West," its position on Ukraine speaks for itself. I don't have to tell you that it runs contrary to US diplomatic tradition. The first US president, George Washington, vigorously opposed the United States' involvement in European conflicts that did not directly affect American interests. Many other American presidents also said the same.
Let's forget about who is right in the dispute over Ukraine for a minute. It is clear why this is an existential problem for Russia. Why was the "collective West" so outraged and up in arms? Was there really something in Ukraine that was so very important to the West, or have they been waiting for a pretext to get at Russia's throat, as it has become a handy target for demonstrating such fury and unity?
Sergey Lavrov: I think both reasons are valid. They were waiting for a pretext to get their hooks in Russia and the right time to do it. Russia began to be seen as too independent a player. We were gaining economic strength, not as great as China or India, but still we remained among the leading economies. We have a strong moral and political position on the international stage. We speak out on key issues for developing countries from the standpoint of justice and offering a critique of the system which the West would like to maintain in the post-colonial era based on its striving to live off others.
I did not answer the previous question regarding Georgia. The developments in Georgia are being orchestrated from outside the country and are of a similar nature. It is a desire to create an irritant on Russia's borders, and in a country where the current government (like the Ukrainian government of Viktor Yanukovich in 2013) thinks primarily about the economic interests of the country and refuses to join the anti-Russian sanctions. They are not motivated by the fact that they are pro-Russian politicians, but by the fact that economic and trade relations with the Russian Federation (gas supplies, and reciprocal deliveries of wine, cognac, Borjomi, agricultural products) provide the lion's share of income in Georgia's foreign trade. They do not want to give it up, even though they are forced to sacrifice their national interests. Neither Ukraine nor Georgia had pro-Russian governments. Rather, they were thinking about themselves, not what they were ordered to do.
I mentioned how the Americans are used to persuading: "You must do so-and-so." The question "What will we get in return?" is most often answered by "We will not punish you in return." I do not see any equal, mutually beneficial exchange or any reciprocal deals.
Russia has indeed been declared an existential, immediate "threat" to be handled in the immediate future. The next threat – so far described as "a systemic long-term challenge to the West in the world" – is declared to be China. The Russian Federation is still a priority in the West's plans, rhetoric and actions. In parallel, the sanctions wars against China have begun, in particular bans on China's access to any materials and technologies that could help Beijing make breakthroughs (semiconductors, microchips, and more). You are aware of this. I am sure that the sanctions pressure on China will only increase. It has basically been announced in advance.
Question: President Xi Jinping was just reelected for a third term in Beijing. Until recently, Washington hoped that China would adopt a more positive approach to the United States and would yield more to the US pressure on Russia. American analysts noted that the appointment of the former Chinese Ambassador in Washington as the Foreign Minister testified to China's new perception of US arguments.
Now I am reading what Chinese leaders are saying and what the Chinese press is writing. Everything is contrary to these expectations. Do you think that by exerting pressure on China, explaining, as you said, that Beijing should follow in the US wake or come to regret it, and without giving it any motivation, the US had the opposite effect on China? Doesn't this explain why China began to move towards closer support of Russia, probably without much enthusiasm?
Sergey Lavrov: In principle, the Americans are very good at antagonising people. They know many ways of doing this. Probably, the main method is their manners that cannot be called diplomacy.  In effect, they consist of a form of dictate and demands. I spoke with China's new Foreign Minister Qin Gang. We met on the sidelines of the G20 ministerial meetings in New Delhi. I saw the continuity of Chinese foreign policy in his statements. Literally several days before, on February 22 of this year, Russia hosted his predecessor Wang Yi, now a member of the Politburo of the Chinese Communist Party Central Committee (CCPCC) and Head of the Office of the CCPCC Commission on Foreign Affairs. Talking with me and Security Council Secretary Nikolai Patrushev in Moscow and when received by President of Russia Vladimir Putin, Wang Yi clearly reaffirmed the continued course of the Chinese leaders after the recent CPC Congress towards coordination and cooperation with Russia, implementation of promising bilateral projects and responsible joint conduct in the international arena. We realise what a great role Russia and China can play in stabilising the situation.
They say that if an ambassador worked in some country and was appointed Foreign Minister at home, he would be prone to be positive and even positively biased towards that country. Maybe that's true, when the manners are right.
Russian Ambassador in Washington Anatoly Antonov, whom you know well, has enormous problems in maintaining contacts with his counterparts, as do his employees. This is not because we are so eager to meet daily with employees of the US Department of State or other agencies but because the emerging questions are not about the future of the universe but about specific living conditions of Russian diplomats in the US and US diplomats in Russia. Washington is making it harder for them to do their jobs and it is hard even to discuss with those in charge these humanitarian issues, issues of common human sense.
I haven't heard of Chinese Ambassador Qin Gang opening any doors when he worked in Washington, D.C. As far as I know (this was written several times), he also found it difficult to establish daily contacts. I didn't discuss this issue with him but listening to his statements during our talks and his news conference on the opening day of a regular session of the National People's Congress, I did not notice any changes in the course that was set by Russia-China bilateral documents. The entire package is in force now. One of the most important documents is the Declaration adopted during Vladimir Putin's visit to Beijing on February 4, 2022 in connection with the opening of the Olympic Games. It was published as an official UN document and underlies all of our further actions.
Question: You mentioned the meeting in New Delhi, where you had a short conversation with US Secretary of State Antony Blinken on the sidelines of the event.
That was such an interesting moment. Prior to that, the State Department had stated point-blank that Mr Blinken was not going to meet either with you or the Chinese Foreign Minister at that event in New Delhi. I was struck by the contrast between how definitive their earlier statements were that nothing was going to happen and the fact that they showed interest in arranging this meeting. On the other hand, if there was a desire to talk to you, why couldn't it have been done in a format where there could have been some really meaningful conversations. Why do you think this meeting was requested by the US side? What happened at that meeting from your point of view and what could you share with us?
Sergey Lavrov: It has already been said on both sides that we discussed the strategic stability situation in the context of the New START treaty and the Ukrainian issue. So I am not revealing any secrets as to what we talked about. We didn't discuss anything else other than those two topics.
Question: Contrary to what the State Department said, you did not discuss prisoner exchanges?
Sergey Lavrov: We only discussed strategic stability and Ukraine. I do not want to go into the details of how this short ten-minute conversation took place. As a matter of principle, everything I heard is in line with the well-known publicly voiced and repeatedly emphasised US position in this regard. I have given detailed explanations. Especially with regard to New START. Russia's position and the forced nature of its decision to suspend the Treaty were explained in great detail by Russian President Vladimir Putin in his address to the Federal Assembly. There is nothing new to be said here either.
Question: Do you believe you heard something from the Secretary of State that gave you the impression that it was an attempt to have at least a cautious but constructive dialogue with Russia?
Sergey Lavrov: We talked constructively, without emotion, shook hands when we met and parted. It was a normal conversation. I don't know how much it reflects the US's understanding of the abnormality of the situation when they cut off all channels of communication. But having a normal conversation "on the margins" of an event has never been a headline.
Question: Was it a civilised conversation without rudeness?
Sergey Lavrov: An absolutely civilised conversation. This once again shows how low we have all fallen in our multilateral diplomacy when a natural meet "on the sidelines" – of which there are hundreds – is now seen as an opportunity to speculate on whether or not there is a breakthrough and whether or not there is any hope that a dialogue will be restored. This is regrettable and sad. This kind of psychological perception of an elementary diplomatic contact suggests that we have made our job much harder as a result of a policy of suppressing any dissent that the West has adopted and has no intention of stopping.
Note that the language, rhetoric and actions used against Russia are extremely aggressive, primarily in the form of illegal and unprecedented sanctions. They show that the West has really decided for itself that this is a war to the death. This hybrid war, which it had been preparing long before last year, immediately after the 2014 coup, is perceived as "our last and decisive battle." That's it. They have their Western style "International." You can see how this "International" anthem reflects the West's desire to not concede "an inch" That's what they (at least) say.
You must have heard more statements. CIA Director William Burns said yesterday that it does not appear that Russia is interested in a peace settlement. Is it clear that Zelensky is "interested?" He again said, at the same time as Mr Burns, that he would never sit at the negotiating table with Vladimir Putin. This has been ruled out. Only a "complete victory" for Ukraine is possible, and he has allies in other formats and with them he will decide the future of his country.
We keep saying that we are not walking away from negotiations, but we do not beg for them. We do not see any possibility for negotiation right now. We emphasise this in the face of a relentless wave of statements on "how bad it is that Russia does not want to negotiate." Has anyone read what Zelensky says? Does anyone remembered the decree he signed in September 2022 outlawing negotiations? They look at you insolently when you remind them of this, and they can't say anything back. This is also part of psychological warfare, a component of the policy we are talking about that is aimed at ensuring that no one dares cross them.
Question: There is a hybrid war, there is also a war, as you (if I understood correctly) said had almost become a real war, and there is a real war. I'm not talking about what is happening on the battlefields in Ukraine, but terrorist attacks as well. The most recent attack which, for obvious reasons, drew the greatest attention is the explosion on Nord Stream 1 and Nord Stream 2. An article by Seymour Hersh was published which was covered much wider outside the United States than in America itself where it was mostly ignored. We are now seeing reports in high-profile US publications, such as The New York Times, The Wall Street Journal, The Washington Post, and Germany's Die Zeit to the effect that this explosion was carried out by a strange anonymous group of either Ukrainians, or Russian oppositionists, or both. The company behind it was allegedly registered in Poland and carried out the attack from Germany. For the first time, it is admitted that the US intelligence services knew about this operation, if not in advance, then for many months. Someone even tried to point the finger at Russia as a party responsible for these explosions. They are still unwilling to say what is known about this operation, the perpetrators and the masterminds behind it. This raises questions about the role of the United States. Do you believe the Biden administration is responsible for what happened with Nord Stream 1 and Nord Stream 2?
Sergey Lavrov: In order for me to give you a clear answer, we need an objective investigation. That is what we are pushing for. Soon after Seymour Hersh published his investigation, we had questions to ask about it. Or rather, we asked questions immediately after the terrorist attack took place. Publicly and in writing on behalf of Prime Minister Mikhail Mishustin, we sent inquiries to his counterparts in Germany, Denmark and Sweden. We have sent multiple official diplomatic notes to these countries asking them to give us answers and allow us to participate in inspecting the section of gas pipelines that had been targeted by the terrorists. No clear reaction followed, except them saying they will figure it out themselves. "This investigation is off-limits to the public and you will know everything in due time" is all we heard from them. The inquiries that Prime Minister Mishustin sent in September 2022 have remained without an official answer so far. This is a matter of manners and more. I think that in addition to manners, there is also the fact that these countries are confused. They aren't sure what to say, especially after Mr Hersh published his findings and vowed to continue to publish additional estimates and findings. For us, this came as an extra factor that forced us to submit a UN Security Council resolution, which is now being discussed, and which we will definitely put to a vote. We want investigations.
Question: What if they turn down your request for an investigation?
Sergey Lavrov: When Seymour Hersh published his piece, a gentleman by the name of Ned Price, who is nearing the end of his career with the press service of the US State Department and going to work directly for Antony Blinken, called it nonsense. As always, everything related to the facts pointing to the possible role of the United States (I would even say the highly likely role of the US government) is called nonsense, fiction, or the like. And no investigation is needed, they say, since national investigations are underway, which is enough.
Suddenly, these very days (they don't do a good job coordinating their public plans and projects), the press secretary of the US President, Karine Jean-Pierre, demanded at a briefing an international investigation into the reports about poisonings at schools in the Islamic Republic of Iran. Nothing less than an international investigation, although no one was badly hurt there. However, a direct attack on critical energy infrastructure does not need an investigation, because the Swedes, Danes and Germans will figure it out themselves. As you may be aware, in Western states, in their basic laws, an attack targeting critical infrastructure is equated to a declaration of war. In this particular case, if it's established that a terrorist attack against a NATO country's critical infrastructure was perpetrated by another NATO country it will bring up the question about the rationale for NATO, which declares as its goal protecting member countries from outside attacks, but at the same time makes possible attacks on one of its members from within the bloc. This is a rather interesting question.
You mentioned the latest wave of stories in the US and some in the German press about new leads: a Ukrainian oligarch who had better come clean himself; they did not want to talk about a Ukrainian "trace" because it could spoil German-Ukrainian relations, and all that kind of stuff. First, this is "baby talk." Second, even if one accepts the logic they are now putting forward, that they wanted to secure the strategy between Germany and Ukraine, it would mean by and large to "cook their goose." If they wanted to attribute everything to a Ukrainian or a pro-Ukrainian trained diver who was no longer in the service, all the same; if they wanted to throw in a Ukrainian "trace," the average German, like probably any other country's citizen, would wonder: is this Ukraine again? The Ukrainian "trace?" They blew up Nord Stream, which, as President of the European Commission Ursula von der Leyen said (not just because of Nord Stream, of course), and the energy commodity problem, caused the European Union to pay 300 percent more for energy. Fatih Birol, Executive Director of the International Energy Agency, recently said that this is now permanent, that there will be no return to past prices that ensured the economic well-being of Europe, including Germany. Now German Chancellor Olaf Scholz has boasted that they survived the winter and that Russia's plan "did not work." We didn't have any "plans." It was their plan to give up Russian gas. They survived the winter. However, they are not very keen to tell us how much it cost the budgets and consequently the taxpayers. The burghers will have a question: why do they need Ukraine at all? If they are blowing them up (whoever he is – an agent of Kiev, paid off by someone from abroad, or just a loner), why do they need to send Leopards there, to admit this country to NATO? I think there are a lot more questions here because of this attempt to literally make it "hide the ends in the water" – both literally and figuratively.
You mentioned that there was advance warning from the intelligence community. There was a Wall Street Journal article that in June and July of 2022 the CIA warned the intelligence services of Germany and other European countries about a Ukrainian trace, about this forthcoming action. And the Times, in September 2022, after the attack took place, reported that a week after the explosion it was established that the traces led in the direction of Ukraine. That is, they warned in June that it would happen, and in September it was established that it did. You know, somehow, it's not serious, it's not a mature way of looking at things.
Question: A few months ago, when I was in Washington, I spoke with a prominent Republican member of Congress. He asked me a question which I would like to pose to you. He asked me what Russia could do in response. Can there be any negative consequences for the United States from Russia?
You don't need me to tell you (you know America and the Washington political scene very well) that they often wonder less about the quality of Russian arguments and more about specific consequences for the United States. If there's no objective investigation which you mentioned earlier (which is quite likely), and if Russia's requests go unanswered, is it fair to assume that one way or another Russia will find a way to respond to this act of terror that impacts our fundamental interests?
Sergey Lavrov: You have no idea how badly I'm itching to…
Question: Of course, I do. That is why I am asking you this question. I had to try.
Sergey Lavrov: I serve as head of the Foreign Ministry. We have our own methods. I'm not going to make predictions or speculate.
After the Soviet Union disappeared, Sovietology in America disappeared as well. You are probably one of the last outstanding powerhouses of that science.
Question: Member of a dying profession.
Sergey Lavrov: Right. Sovietologists aka Russologists should have enjoyed demand to some extent which isn't the case. Now, as I understand, they are used again to provide advice and consultations.
We have many Russian proverbs that Sovietologists should know such as "take measure seven times and cut once" or "Russians saddle slow, but ride fast." I have no intention of threatening anyone or making any allusions. I know that this flagrant terrorist attack will not remain uninvestigated. If an objective, unbiased and transparent investigation is blocked or reduced to someone saying that the Swedes, the Danes and the Germans have arrived at some conclusions, so let this be the final verdict, we will, without a doubt, ponder our response to the West for this attack which is, by and large, an attack on our property.
Question: There's another Russian proverb. I do not want to provoke you, but it may be applicable to the situation at hand. Tell me if it's not. Here it goes: You pay a person back in the same coin.
Sergey Lavrov: No doubt about it. By all means.
Question: Let's turn to a more pleasant subject – India. When Washington expresses its dissatisfaction with what has been achieved through punitive, stifling sanctions against Russia, it is primarily negative about China. But this was more predictable. Particularly disappointing is the position of India, which has expanded its trade with Russia and refused to join the sanctions pressure. However, India has its own interests and not even primarily with the US but with the European Union. How would you describe India's course, especially in the context of the crisis in Ukraine?
Sergey Lavrov: India pursues its own interests, like any normal country. There is no doubt that India, an Asian country that is rising along with China, is subjected to increasing pressure by the West, considering that it is the West that announces its foreign policy strategies as directed against someone. We don't have this. We want everything to be in the context of a multipolar world. Everything must be based on a balance of interests and according to international law.
The West announces its foreign policy course as aimed at deterring Russia or China or mobilising other states against them. This is a striking feature, a characteristic of our Western colleagues at the present historical stage.  In fact, they have acted in this way throughout history. They are "courting" India all the way. They see it as a counterbalance to China, considering the presence of long-term problems in relations between Delhi and Beijing, including border disputes. We, as the Russian Federation, are trying to help them resolve these problems and overcome all differences.
It was with this aim in view that my great predecessor Yevgeny Primakov initiated the formation of the RIC trio (Russia, India, China) more than 20 years ago. The entire concept of a multipolar world was taking shape at that time. RIC embodied it diplomatically. Little is said about RIC now because it led to the creation of BRICS. It is now diverting the attention of those that are watching the emergence of new power centres. However, RIC continues working. It has held over 18 foreign ministers meetings. Experts from other departments – agriculture, high technology, energy and space to name a few, hold meetings as well. In RIC, our main goal is to help India and China. Apart from BRICS, we are granting them an additional platform in the SCO where India has now become a full-fledged member along with Pakistan. We believe the more they communicate the more useful it is for everyone. Communication will help these two great powers, two great civilisations to resolve all their problems.
The West takes a directly opposite position, with the aim of pitting India against China. Our Indian friends are well aware of this. They are telling us openly that they are seeing these attempts and they know the true goals that NATO is pursuing by announcing that the Indo-Pacific Region is a zone of its responsibility, after the Euro-Atlantic. NATO is going all-out to penetrate this part of the world via the AUKUS bloc. They now want to expand it by attaching Japan and South Korea to three Anglo-Saxon countries. They are also trying to split ASEAN. They have picked up five of the ten ASEAN countries that would be more prone to such pressure. They are also doing many other things, replacing some mechanisms, including those of maritime security that were universal for this entire region. All these issues were discussed at East Asian summits (attended by all ASEAN members, Russia, China, India, the US, Australia, New Zealand, Korea and Japan).
Now they are trying, for one thing, to separate the issue of maritime security from the rest of this universal format (where agreement must be reached with the participation of all parties) and put it into a narrow format without China, Russia and many other countries. They have established QUAD into which they invited India (India, the United States, Japan and Australia). When we discussed this issue, our Indian colleagues said they were taking part in QUAD only in order to implement economic projects. Of course, all these approaches are accompanied by attempts to convince India (and the US does not conceal this) to join anti-Russia sanctions, not to let Russia use any Indian resources or logistics to obviate Western sanctions. India does not agree to do this.
Now a new wave of hysteria has swept the West. They are saying that Russia is building up its foreign trade even in such conditions. This is "not right." They are working on a new strategy to block any channels for obviating sanctions. So this is no longer just that we have imposed sanctions on Russia and urge you to do the same. This is a ban on being independent. White House Press Secretary Karine Jean-Pierre was asked what she thought about two Iranian Navy ships visiting the port of Rio de Janeiro. She said that of course, this was a source of concern but any sovereign country may decide with whom it engages. Correct. This sounds great. But why don't they apply the same principle to relations between Russia and all the countries that do not want to impose sanctions on it? Why are they prohibited from absolutely legal forms of carrying out business with the Russian Federation in the economy, investment and transport projects? This is obvious to everyone and does not pass unnoticed.
The majority of countries do not want to have open conflicts with the West or to argue with Western countries although sometimes voices are breaking through. President of France Emmanuel Macron has now visited the Democratic Republic of the Congo. Its President Felix Tshisekedi explained to him how to talk politely to his partners in Africa even if they became independent relatively recently and had previously been colonies, including French colonies. I can hardly imagine that this negative feeling accumulated due to Western dictate and hegemony will just disappear by itself.
Question: At the moment, it is hard to imagine how the situation with Ukraine could be resolved. But we know from history that conflicts end either in a military escalation and a victory one of the parties (which is quite difficult to imagine now), or in it running on for a while in one form or another and not necessarily ending in a formal peace but with the establishment of a new world order. There are plenty of such examples. And it is not necessarily the kind of world order that the parties to the conflict were hoping for.
It appears that apart from Ukraine's role and the dissatisfaction over Russia's independent policy expressed by the West (primarily by Washington), we have reached an impasse in the development of the world order based on the West's dominance – not only in the geopolitical sense, but also in the cultural and civilisational context as well.
I realise this is an unfair question, because, as the foreign minister, you would not want to speculate idly on civilisational issues – but do you feel that we are on the verge a fundamental demolition and restructuring of the entire international political system?
Sergey Lavrov: As regards the consequences and possible global aspects of the Ukrainian crisis, the word "demolition" is quite fitting. In my remarks, I have repeatedly mentioned an emerging multipolar world order. This transition is not something that will come to an end quickly – rather, it will take an entire historical era. I am convinced of this.
The West's global positions have considerably weakened – yet its influence in the economic, technological, and military spheres remains strong. They are making attempts to compensate for their relatively weakened positions by amplifying their aggressive efforts, particularly in the military and political areas, and suppressing their competitors through illegitimate methods.
I am referring to the "rules" that the West wants to use as the basis of a world order where they dominate. In Georgia, protesters can do anything they want – whereas in Moldova, nothing is permitted. The Iranian school poisonings have been the subject of an international investigation, while the Nord Stream explosions are considered nonsense and being ignored. Iranian warships docking in a Brazilian port is seen as a bad thing – but sovereign countries have the right to choose their partners. Why not apply this principle to relations between India, Russia and other countries?
In the most recent example, UK Foreign Secretary James Cleverly has claimed recently that the Falklands belong to the UK because this is what the people who live there want. But didn't the people of Crimea speak out expressing their desire to be part of Russia again? There are plenty of such examples.
This is why we ask our American, European and British colleagues a question: can we see those rules of the "rules-based world order" that they mention everywhere? No, we cannot – just as we cannot see the list with the names of those whose bodies were shown in Kiev's suburb of Bucha on April 3, 2022 to accuse Russia of the crimes, with sanctions imposed immediately afterwards. Until now, we have been unable to obtain even a list of their names, and no-one is mentioning any investigation – as well as the investigation into the crime that took place in Odessa on May 2, 2014, when 50 people were burnt alive, even though there is video footage available showing the faces of those who committed it.
No one is going to give us the investigation materials (or at least to make them transparent) into the 2018 Salisbury incident or the documents confirming the claimed version of the 2020 poisoning of Alexey Navalny. Germany said it could not provide them, and there was a fascinating explanation for that. They didn't find anything when they brought him to a civilian clinic but they found evidence at a military hospital. We asked them to show us the test results; the Germans replied they could not do that as it would disclose information about their biosecurity.
With such orders and rules, you "cannot go on like that", as they said in the final days of the Soviet Union's existence.
Question: I am sure that Moscow doesn't want an escalation and is interested in a reasonable solution to the Ukraine problem, which will be based on Russia's fundamental interests. Am I right in thinking that even if this proves possible and materialises, this will in no way mean that we will go back to the world that existed in the period after the Cold War and that Russia will insist on and work for the emergence of a fundamentally different world order?
Sergey Lavrov: There can be no return to the old order. The West also says that business as usual is out of the question. There is no need to persuade us of that. We drew all the conclusions quite a while ago. The world has learned nothing from a period of history between the two world wars in the 20th century. We, our leaders have never, directly or indirectly, called into question at the official level the alliance that made it possible to defeat Adolf Hitler.
True, there were numerous studies; scientists, politicians, opposition figures wrote that the [US] lend-lease plan had not been of much help for us and that [the Allies] had opened the Second Front when it became clear that the Soviet Union would win single-handedly. It was recalled that France and England were negotiating a non-aggression arrangement with Hitler even before the Molotov-Ribbentrop Pact, sought to get him to strike east, and much else. Historians are studying this. But we have never – not in any speech by our leaders (including the Victory Day addresses by the President of Russia on Red Square) – allowed ourselves to cast a shadow of a doubt on the alliance that had rallied us in the fight against Hitler.
But our Western colleagues began doing just that at the official level long before the Ukraine events, putting equal blame on the Soviet Union and Hitler. The Molotov-Ribbentrop Pact allegedly "triggered" World War II.  They do not even mention the fact that Paris and London signed the same pact with Hitler a year earlier. The Munich Betrayal and Poland's role in it is a taboo subject. History textbooks have long interpreted the opening of the Second Front as a turning point in World War II.
To mark the 75th anniversary of Victory, which was celebrated in 2020, the United States issued a commemorative coin (perhaps you've seen it) dedicated to the victory over Nazism. There were three flags – American, British, and French – engraved on it. There was neither the Soviet, nor Russian flag. Neither is there an inscription saying that someone else fought Hitler apart from those three countries.
I can say the same about Germany long before the current events. A clear idea could be traced in our conversations with our German partners at different levels: "Dear friends, Germany has long paid all its debts to everyone. We no longer owe anyone anything."
Recalling all this in retrospect, we realise that these were not just isolated episodes. The demolition of monuments, processions in honour of Waffen-SS veterans in the Baltic states, the openly neo-Nazi and Nazi units with Nazi insignia in Ukraine… All our appeals to the public to look at this, condemn this, and prevent the revival of Nazism were totally disregarded. Our conclusion is that we should inevitably consider the version to the effect that Europe needs Nazism once again so as to either direct it against us, or as a means of containing Russia and preventing it from becoming a force in its own right.
I do not know what the new world order will be like. We sincerely signed the documents that spelled out principles, to which we have been committed until now. But the West has trampled them underfoot. I am referring to indivisibility of security, unacceptability of attempts to strengthen one's security by impinging on the security of others, and the inadmissibility of the situation where a country or an organisation lays claim to international domination.  All of this was specified in OSCE documents signed in 1999. Later this was spat upon, trampled underfoot, and described as "political commitments."  OK, but they were signed by presidents, chancellors and prime ministers. The indivisibility of security is synonymous with a balance of interests: you come to an agreement on a modus vivendi, without forcing anyone to report to you each month on who you trade with or making them provide evidence that they have not breached any prohibitions while working within the unified global system of commerce.
Why do they now want to reform the World Trade Organisation? Because the principles it was based on, principles formulated primarily by the Americans, the British, and their allies, no longer suit them. Using these principles, China has achieved much more than the West. It gained the upper hand over them, playing by their rules. Today, WTO operations are stalled. The Americans are using discriminatory measures against Chinese goods. China files absolutely justified suits to the body on dispute settlement. But the Americans have prevented it from functioning for years by blocking the appointment of persons needed for a quorum. This is an elementary "petty hooliganism."  They were urging WTO reform at the recent G20 meeting in India (this was put in black and white). But who will object to reform, if the WTO does not work?
Speaking of a new world order and architecture, I hear the voices at home, saying: "What on earth are we doing at the WTO?" We spent 17 years in negotiations and managed to "extort," by sweat and blood, a measure of protection for our as yet underdeveloped industries and services sector. Today, they tell us that by WTO rules we have the right to trade, sell and buy, but there is a clause to the effect that if a country regards a certain situation as a security threat, it can do whatever it wants. So, it is useless to go to court.
We and our colleagues from the Government and the economic and financial agencies are assessing a similar situation with regard to the Bretton Woods institutions, also a US "creation." After the demise of the Soviet Union, when we were rethinking our position in the world and planning our future, one of our tasks was to fit into the fabric of civilised society. Today, this society in the person of the International Monetary Fund and the World Bank has frozen our contributions and shareholdings. Our attempts to figure out what further steps we can take regarding them have not been much of a success.  Perhaps, we would be ready to use these funds for a noble cause, especially as the World Bank has numerous aid programmes designed for developing countries. But in their current "frozen" state, these Russian WB funds cannot be used even for these purposes.   So much for their justice and fairness.
Notice the comments by the Chinese leaders a year after the start of the special military operation. China is for peace. We appreciate its calls to respect the UN Charter.  We keep to the same position. We interpret the Charter in its entirety rather than selectively, including the provision that it is inadmissible to violate the right of peoples to self-determination.
In recent years, China has come to underscore the principle of indivisibility of security in application to the global landscape and not only to Europe, as it was proclaimed in 1999.  I think that in philosophical terms this tallies in full with our approach. With our Chinese friends, we will promote our coordination in the international scene, proceeding from the premise that indivisibility of security should be enshrined in legally binding documents. In principle, this document does exist. I am referring to the UN Charter, which has formalised the sovereign equality of states. But its practical implementation is inadequate.
In this connection, we should work to induce all countries to return to the sources incorporated in the goals and principles of the UN Charter and have the UN itself in the person of its Secretariat, special bodies, foundations and programmes reflect the realities of the multipolar world rather than be subject to  excessive influence in its steps and work by the "golden billion," or the global minority.