Travis Ross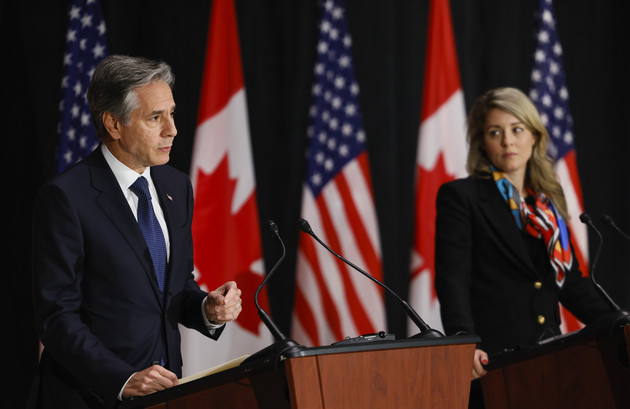 U.S. Secretary of State Antony Blinken and Canadian Foreign Minister Mélanie Joly hold a press conference on Oct. 27, 2022 in Ottawa to both hide and signal their desire to militarily intervene in Haiti. Photo: Blair Gable/AP Photo
Part I
On Jan. 23-24, 2023, heads of state and government met at the seventh Summit of the Community of Latin American and Caribbean States (CELAC) in Buenos Aires, Argentina.
The Summit marked a renewed interest in regional integration by the leaders of the 33 countries which attended, culminating in an 111 point declaration entitled "The Buenos Aires Declaration."
The document affirmed CELAC members' commitment to "advance with determination in the integration process, promoting unity and the political, economic, social and cultural diversity of our peoples." The Declaration also emphasized the urgent need to address "poverty and existing inequalities and inequities." Other priorities include addressing climate change and improving funding as well as access to public health and education.
Brazil Returns to CELAC
The Summit featured a renewed sense of collaboration, as many CELAC countries have recently elected left-leaning governments, including the election of President Luiz Inácio Lula da Silva in Brazil. Lula announced Brazil's return to CELAC 11 days after his election. Brazil's former leader, Jair Bolsonaro, withdrew Brazil from CELAC in 2020.
Lula received unanimous approval and applause when he spoke at the Summit.
Brazil's economy represents roughly a third of the region's total GDP, underlining the significance of its return to CELAC.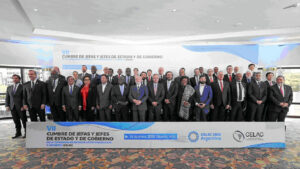 Venezuelan President Nicolas Maduro was unable to attend due to threats of an attack on his delegation. However, Maduro supported the Summit and gave a video address. "Latin America and the Caribbean must be heard, in a single voice," Maduro said, "and tell the United States of America: no more interventionism, no more coup plots, and enough of sanctions against the continent's free and sovereign countries."
Prior to the summit, Lula defended Venezuelan sovereignty and reiterated his intention to reestablish formal diplomatic relations with Caracas, which were broken off during Bolsenaro's administration.
"Venezuela will once again be treated normally like all countries want to be treated," Lula said in a joint press conference with Argentine President Alberto Fernández before the CELAC Summit.
 CELAC, national sovereignty, and two de facto leaders
The Buenos Aires Declaration includes a section making commitments to "democracy, the promotion, protection and respect for Human Rights, international cooperation, the State of Law, multilateralism, respect for territorial integrity, non-intervention in the internal affairs of States, and the defense of sovereignty, as well as the promotion of justice and maintenance of international peace and security."
But the presence of two individuals – Peru's de facto foreign minister Ana Cecilia Gervasi and Haiti's de facto Prime Minister Ariel Henry – belied CELAC's renewed commitment to non-intervention, sovereignty, and democracy.
Gervaci faced protests outside of the CELAC Summit. In Peru, de facto President Dina Boluarte has faced massive protests across the country, with demonstrators numbering in the tens of thousands. According to Peru's Ombudsman's Office, over six dozen roads were blocked in at least 24 provinces. Boluarte's regime has responded with waves of police violence, resulting in an alleged police massacre of 19 protesters and at least 60 protesters injured.
CELAC member states have differed on whether to recognize Peru's new government, which many view as the product of a parliamentary coup against elected President Pedro Castillo. The governments of Honduras, Colombia, Venezuela, Bolivia, Mexico, Argentina, Grenada, Saint Lucia, Saint Vincent and the Grenadines, Saint Kitts and Nevis, Antigua, Barbuda, Cuba, Nicaragua, and Colombia have all expressed some form of opposition or outright condemnation to Castillo's ouster.
In contrast, Lula stated that he hopes "that President Dina Boluarte succeeds in her task of reconciling the country" and that "all Peruvian political forces work together within a constructive democratic coexistence." This tacit diplomatic support for Peru's de facto regime puts Brazil in alignment with the governments of the United States, Canada, Ecuador, Panama, Chile, Uruguay, and Costa Rica.
Haiti's de facto PM Ariel Henry requests a "Special Military Force"
Ariel Henry was, by far, the leader with the least legitimacy attending the CELAC Summit.
Henry's ascension to power was a direct consequence of imperialist meddling in Haiti. His authority rests solely on the support he enjoys from the U.S. and its allies (known as the CORE group), which hoisted Henry into the post by Tweeting a short statement of support for his claim on leadership. He is the first prime minister to be brought to power by a tweet.
Henry now rules without a Parliament, while large protests demanding his resignation continue. He is also a suspect in the Jul. 7, 2021 murder of Haitian President Jovenel Moise.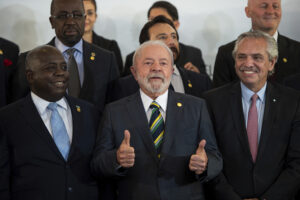 Henry's contribution to the Summit was a statement requesting that CELAC members provide "urgently… robust support… for local security forces. We need materials, equipment and training for our law enforcement." Henry was referring to the Haitian National Police (PNH), a beleaguered and under-equipped force of about 10,000 and shrinking.
He was also reiterating an Oct. 7, 2022 request he had made to the UN to send a "specialized armed force" to Haiti. His request was "translated perfectly," he said, by UN Secretary General António Guterres in an Oct. 8, 2022 letter to the Security Council's President (S/2022/747).
At the CELAC Summit, Henry encouraged members "to participate in a specialized multinational force … to fight against the proliferation of organized crime, the illicit trafficking of arms and ammunition, and to eradicate the gangs that have taken the country hostage."
In response, the Buenos Aires Declaration encouraged member countries "to study the options presented by the [UN] Secretary General… in order to participate in the specialized multinational force requested by Haiti."
Gutterres had proposed "one or several Member States, acting bilaterally at the invitation of and in cooperation with the Government of Haiti, could deploy, as a matter of urgency, a rapid action force to support the Haitian National Police."
He then outlined two different approaches.
"Option 1" was a "multinational police task force" which would be only advisory while the PNH would "remain the only force on the front line of operational policing and anti-gang operations." This "task force" would theoretically just advise, vet, and train the PNH and coach them on how to "regain the trust of the population in gang-affected neighborhoods" while "assessing the threats to national security and public order" that the "gangs" pose.
But "Option 2" was for a "multinational special force" which would militarily engage in "joint strike, isolation and containment operations across the country" against the "gangs."
"CELAC SHOULD GET OUT OF THIS QUAGMIRE OF SHAME AND DENOUNCE THIS INTERVENTIONIST PROJECT!"
Like all imperialist proposals these days, Guterres said that the foreign intervention would "need to be Haitian-led and that the national police should be in the lead."
First, CELAC's recognition of Henry as a legitimate representative of Haiti amounts to tacit, if perhaps unwitting, support for U.S. imperialist machinations in Haiti. Henry was not elected by popular vote and does not have the consent of Haitians to govern, let alone negotiate a bilateral deal for "security assistance" from other countries or regional organizations. His negotiating with CELAC in no way reflects the "participation of Haiti."
Furthermore, CELAC's support for Guterres' plan also means tacit support for the U.S. Global Fragility Act (GFA), which allows for Washington to establish bilateral 10-year "security assistance" deals with other countries. The U.S. has targeted Haiti to be the first "partner" country under the GFA.
The Buenos Aires Declaration's Haiti Clauses are Denounced
The newsweekly Haïti Liberté immediately decried CELAC's position on Haiti in an editorial by director Berthony Dupont entitled "CELAC aligns itself with the interventionist position of U.S. imperialism, what a shame!"
The editorial ended with: "No to any U.S., Canadian and UN intervention in Haiti!" and "CELAC should get out of this quagmire of shame and denounce this interventionist project!" The editorial thanked "the popular political and social organizations of the CELAC countries who have shown their solidarity with the struggle of the Haitian working masses", referring to the concomitant "Social Summit" or "CELAC Social" which condemned the two Haiti-related clauses – 101 and 102 – in the CELAC Summit's final resolution.
The Black Alliance for Peace (BAP), meanwhile, called the Buenos Aires Declaration a fundamental "betrayal" of Haitian democracy and sovereignty. Their statement points out that "by inviting Henry, CELAC has legitimized an unpopular, Core Group-installed, de facto prime minister in Haiti. Henry has not only refused to hold elections, but he has presided over the departure from office of every single elected official in the country."
BAP observed that Henry has requested "foreign intervention to shore up his power against the wishes of the Haitian masses and majority."
"CELAC's commitments to peace as well as to other principles, such as 'democracy; the promotion, protection and respect of Human Rights, international cooperation, the Rule of Law, multilateralism, respect for territorial integrity, non-intervention in the internal affairs of States, and defense of sovereignty,' are all directly undermined by its stance on Haiti," BAP concluded.
Part II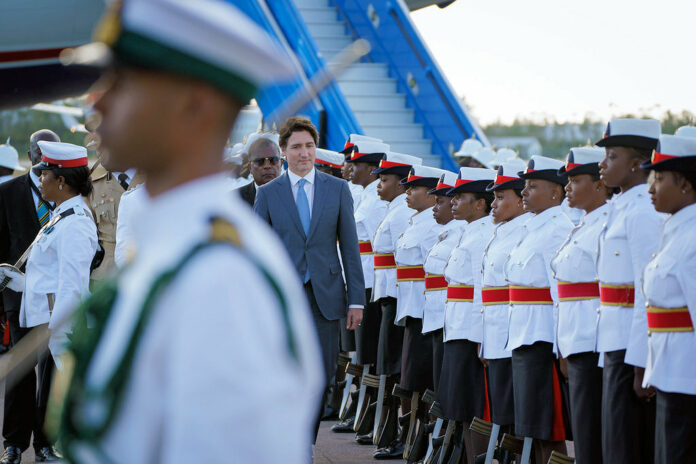 Canada's PM Justin Trudeau arriving in Nassau, Bahamas on Feb. 15 for the 44th CARICOM meeting. Photo: Adam Scotti/OPM
At the behest of Washington, Canada has begun a "significant military deployment in Haiti," according to Canadian Ambassador to Haiti Sébastien Carrière.
Despite U.S. pressure since last October, Canada played hard to get in accepting the responsibility for leading the third foreign invasion of Haiti in the past three decades. But now, it has relented.
"We took over," Carrière told journalist Madeleine Blais-Morin on the program Les Coulisses du Pouvoir on Feb. 19. "We delivered armor. There have been two deliveries since October. There would be a third delivery in the next few days, and another one later in February. There is this CP-140 surveillance operation, intelligence sharing, there are ships arriving. Listen, it's still military deployment in a significant way."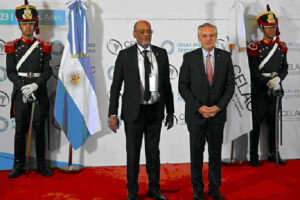 This deployment is justified by Haitian de facto Prime Minister Ariel Henry's request to the United Nations on Oct. 7, 2022 for a foreign "special military intervention" into Haiti to fight "gang violence." But the Haitian people's overwhelming hostility to this proposal can be understood by Haiti's recent experience with UN military occupation.
 MINUSTAH – Haiti's Occupation by a Brazilian-led UN Military Force
On the day that a U.S. SEAL team kidnapped President Jean-Bertrand Aristide from his home in the Port-au-Prince suburb of Tabarre on Feb. 29, 2004, the U.S., Canada, and France landed troops in Haiti, militarily occupying the country for the next three months.
Then on Jun. 1, 2004, they handed off the occupation to a much more cheaply paid multinational army called the UN Mission to Stabilize Haiti or MINUSTAH.
Although the force varied in size over the 13 years it was deployed in Haiti, MINUSTAH averaged about 9,000 military troops and 4,000 police officers from 56 mostly poor countries around the world. Brazil led the mission in which Latin American soldiers predominated, mostly from Brazil, Argentina, Chile, Bolivia, Ecuador, and Uruguay. Ironically, most of these nations were then led by "pink tide" presidents who should have shunned collusion with Northern imperialist powers in policing Haiti after a clearly U.S.-backed coup, as Venezuela and Cuba did.
"MINUSTAH IS HOW THE U.S. HAS OUTSOURCED ITS CONTROL OF HAITI."
"MINUSTAH is how the U.S. has outsourced its control of Haiti," author and activist Bill Quigley explained. The UN force helped consolidate the post-coup government of Washington's puppet Gérard Latortue and committed multiple crimes and massacres against the Haitian people. In 2010, Nepalese UN soldiers introduced cholera into the country leading to over 10,000 deaths and hundreds of thousands were sickened. Meanwhile, MINUSTAH's first commander, a Brazilian general, "complained of the pressure to use violence and resigned his position by fall 2005."
MINUSTAH soldiers also committed hundreds of acts of rape and sexual assault on Haitian women and minors, even operating a child-sex ring. Multiple cases of rape and poverty-compelled prostitution left at least 265 children abandoned when MINUSTAH left Haiti.
The UN occupation effectively throttled Haitian democracy, helping to install the Haitian Bald Headed Party (PHTK) as the dominant force in Haitian politics in 2011. Under PHTK rule, state institutions have been dismantled or withered, so that today de facto Prime Minister Ariel Henry rules without a single elected official.
A monument built in Port Salut to MINUSTAH's victims captures the feelings of most Haitians: a pile of skulls with a UN blue helmet on top with the words "MINUSTAH, Kolera." A Haitian man stands above, impaling the helmet with a flagpole flying the Haitian bicolor, his fist raised in defiance.
Opposition to CELAC's Support for an Intervention in Haiti
A day before January's CELAC Summit, Lula received a letter from "Mouvement Dialogo 2000" that was signed by two prominent Argentinians: artist, peace activist, and Nobel-Prize-winner Adolfo Perez Esquivel and long-time human rights activist and co-founder of "Mothers of the Plaza de Mayo", Nora Cortiñas.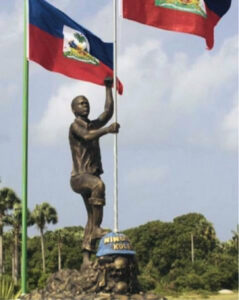 "We particularly call on the Brazilian government, which you preside over, to support the Haitian people's rights by rejecting any military intervention, by withdrawing from the 'Core Group,' and by working for its dissolution, and the closure of the UN trusteeship office (BINUH)," the letter reads.
"The Haitian people are rising up against the enormous social and political crisis they face and the threat of a new military occupation that the United States is openly promoting" and demand "the resignation of the de facto government of Ariel Henry – a government not elected by the Haitian people but imposed and supported by those powers through the disastrous 'Core Group' – and total respect for its sovereignty and self-determination."
Movement Dialogo 2000, Esquivel, and Cortiñas also "categorically reject these new attempts at occupation and any interference."
It is evident why many fear that Lula might again throw his support behind another foreign intervention in Haiti. He has never acknowledged or apologized for Brazil's role in undermining Haitian democracy and sovereignty by leading MINUSTAH's military force. His huge influence in Latin America could have a direct influence on whether a multinational "special military force" or "security assistance" will be assembled and sent to Haiti.
As the Black Alliance for Peace (BAP)  points out, nowhere in the Buenos Aires "declaration do they mention the role of the international community in creating the current crisis in Haiti. Nowhere do they mention that the crisis is a crisis of imperialism, brought on by the United Nations, the Core Group, the United States, Canada, and other so-called 'friends' of Haiti in the international community."
The risk remains that Lula might "exceptionalize" Haiti again, as he did in 2004. "CELAC's position on Haiti is ill-informed and dangerous, representing an all-too-frequent, reactionary 'Haiti exception' when it comes to the 'progressive' governments of the Americas," BAP concluded.
Indeed, Lula's February visit with U.S. President Joe Biden ironically focused on "supporting democracy" (which Washington has repeatedly sabotaged in Brazil) and included a discussion on "insecurity in Haiti." It remains to be seen whether, as Dr. Jemima Pierre has observed, the leftism of the Americas "collapse[s] at the door of Haitian sovereignty" and betrays "a people that have given so much to the struggles for sovereignty and independence in the region."
Gauging the Support for an Intervention of Haiti by CARICOM and its Members
CELAC's receptiveness to a foreign military intervention in Haiti is shared by a few key Caribbean governments.
On the same day that CELAC published the Buenos Aires Declaration, CARICOM issued a statement that it had begun contacting "Haitian stakeholders over the past few weeks about their willingness to attend a meeting in a CARICOM country." The regional body reiterated its desire to assist in bringing all stakeholders "together in their search for a consensus agreement."
Despite "reaching out to stakeholders," CARICOM only invited Ariel Henry to represent Haiti at their three-day 44th biannual meeting that began Feb. 15 in Nassau, Bahamas. Other political factions and civil society groups were not invited.
(Jamaican PM Andrew Holness led a CARICOM delegation to Haiti for a Feb. 27 visit. In addition to sitting with Haiti's de facto prime minister and his new government, the delegation also met with the Montana Accord coalition, Henry's principal rival for power. The CARICOM delegation "agreed to provide direct support to the Haitian National Police to help bolster security," according to the Bahamian daily The Tribune.)
Haiti's security crisis was top of the list for discussion in the bilateral meetings held between heads of government. This gathering also focused on the waves of Haitian migrants arriving on the shores of CARICOM countries as they flee poverty and worsening violence. Several members have complained about the expenses involved in housing and deporting these "migrants" – refugees fleeing violence and deprivation.
At the meeting, CARICOM, for the time being, rejected the call for military intervention. "Those of us on the periphery who might be calling in troops and so on, it's a bit premature on our part," said the CARICOM's Minister of Foreign Affairs, Dr. Amery Browne.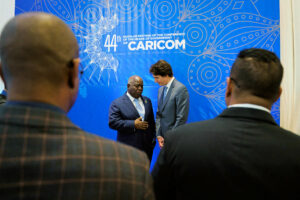 But, according to a CBC report, "both Jamaica and the Bahamas have said they are willing to contribute by sending members of their own security forces. Other Caribbean countries that have forces that could assist in such a mission include Barbados, Belize, Guyana, Suriname, and Trinidad and Tobago."
Jamaican PM Andrew Holness had previously stated that "Jamaica would be willing to participate in a multinational security assistance deployment."
The leadership of Guyana had also previously stated that they support a military intervention in Haiti.
The Bahamas' Prime Minister Philip Davis sees the increased flow of Haitian refugees as "a substantial threat," and said he "would send troops or police to Haiti as part of a peacekeeping force if asked to do so by the United Nations or the Caribbean Community."
Nonetheless, Davis wants the leadership of his powerful northern neighbors. "What we in CARICOM have come to appreciate is that we do not have the resources to be able to deal with the Haiti problem ourselves, and we do need outside help and that help, we are looking to the North, to Canada and the United States, to come to the fore," he said.
The Bahamian Foreign Minister Frederick Mitchell stated the matter clearly: "Canada has been asked to take the lead."
CANADA PLAYED A A LEADING ROLE IN THE 2004 COUP AGAINST DEMOCRATICALLY ELECTED PRESIDENT JEAN-BERTRAND ARISTIDE.
Therefore, Canadian Prime Minister Justin Trudeau was accompanied by Ambassador to Haiti Sébastien Carrière, Ambassador to the UN Bob Rae, and his national security adviser Jody Thomas when they all attended CARICOM's biannual meeting.  Trudeau announced that Canada will provide $12.3 million in new humanitarian assistance and $10 million for the International Office on Migration (IOM) to support migrants in the region.
Trudeau recently confirmed sending a Canadian military plane to surveil Haiti and support "anti-gang" operations. At the CARICOM meeting, he announced that Canada's sending of two Kingston-class naval vessels to patrol the waters around Haiti. This is on top of sending many armored vehicles to the Haitian National Police (PNH) to "combat gangs."
According to a statement on Trudeau's website, he had bilateral meetings with the leaders of Barbados, the Bahamas, Jamaica, and Haiti, who all want foreign military intervention in Haiti.
A coalition of countries willing to back a military intervention in Haiti is forming. Trudeau has stated that Canada is not willing to lead a multinational "special military force" into Haiti, but has been trying to get a regional body – CARICOM, CELAC, or the Organization of American States (OAS) –  to take the lead. If this does not work, an ad hoc "Coalition of the Willing," made up of a hodgepodge of Latin American and Caribbean nations may have to suffice.
Although today acting coy, Canada played a a leading role in the 2004 coup against democratically elected President Jean-Bertrand Aristide and has doggedly supported Ariel Henry, despite his illegitimacy and evidence of his involvement in Jovenel Moïse's murder.
Meanwhile, the Caribbean's most vociferous cheerleader for foreign military intervention into Haiti is the neighboring Dominican Republic, which is not a CARICOM member. In January, President Luis Abinader recently reiterated his call to "build a strong military force to help the Haitian National Police." Over the past year, Abinader has expelled tens of thousands of Haitians and Dominicans of Haitian descent from the Dominican Republic, including pregnant women.
Part III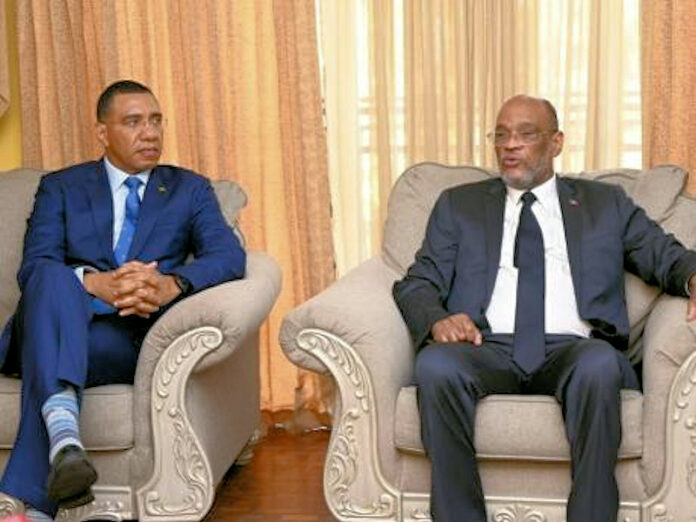 Jamaican PM Andrew Holness with de facto Haitian PM Ariel Henry in Port-au-Prince on Feb. 27, 2023. Photo: CMC
A recent poll by the Haitian daily Le Nouvelliste found that "69% of Haitians support intervention," but only 1330 Haitians were polled, the AP revealed. Therefore, only 917 Haitians endorsed intervention in the poll. Haiti's population is about 11.5 million.
It is also unclear how this poll was conducted, but it is clear that the sample size was tiny and not necessarily representative at all of Haiti's entire population. Protests clearly show that many thousands of Haitians reject any foreign military intervention.
Anthropologist Jessica Hsu argues that there is a disconnect between some politically active "civil society groups," who largely oppose intervention, and a large part of the general population, which sees foreign intervention as the only hope of providing some respite from violence.
"The majority of people who want an intervention do not have hope in any government improving their lives," Hsu said. "Many people have told me that they do not trust the Haitian state, that it's been absent, negligent and even exploitative."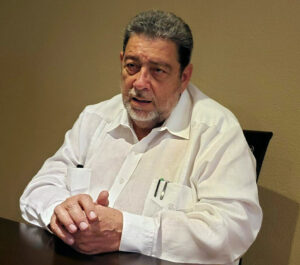 Hsu's views may reflect a growing desperation resulting from the constant gang violence and deprivation Haitians face daily. Indeed, it has long been argued that the growing influence of violent gangs, mostly in Port-au-Prince, is fueled by elite interests.    Oligarchs flood the nation's capital with guns while backing gangs to carry out their political battles, settle scores, protect their property, and, as seems to be the case today, provoke another foreign intervention.
The Nouvelliste poll does reflect a general trend among Haiti's fractured political class to find a consensus for some kind of foreign intervention. The two most prominent political coalitions do not condemn the options outlined by UN Secretary Antonio Guterres in his Oct. 8 letter to the Security Council. CELAC's recent Buenos Aires declaration recommended members "study" the letter, in which Guterres describes two options: an advisory "multinational police task force" or a combat-ready "multinational special force."
Recent statements by leaders of the two main political factions indicate a consensus on a path forward. On Dec. 23, 2022, Henry shared his hope for a "multinational support force for the PNH" to arrive in Haiti in 2023. This is a change from Ariel Henry's original request for "a specialized armed force."
The Montana Accord is often presented as the alternative to Henry and PHTK rule. When the Montana Accord was signed in August 2021, its coalition seemed to have broad support across Haiti, claiming support from over 600 political and "civil society" groups. Whatever support the coalition once enjoyed, it has clearly narrowed considerably. The Montana group does, however, continue to find enthusiastic supporters in Washington, including many U.S. diplomats and think-tanks.
In an article for Just Security in September 2022, Jacques Ted Saint Dic – a Montana spokesperson – wrote "the United States should use creative and aggressive tactics to intercept criminal activity in Haiti." Clarifying that the United-States has a "powerful and important role" to play "in helping get democracy back on track in Haiti." Saint Dic followed up a month later, explaining that "the PNH needs technical support" from Washington.
During a Dec. 29 press conference, Fritz Alphonse Jean, Montana's designated interim President, stated that Montana supports a change in leadership to facilitate a breaking of ties between individuals in the political class so the PNH can "absorb an adequate international assistance within the framework of cooperation that is defined and established by the new leadership" –  namely, himself.
The two factions now evidently agree on the nature of the impending foreign intervention in Haiti. It must come in the form of "assistance for the PNH." It is understood that the terms "military" and "intervention" should not be uttered.
IMPENDING FOREIGN INTERVENTION MUST COME IN THE FORM OF "ASSISTANCE FOR THE PNH." IT IS UNDERSTOOD THAT THE TERMS "MILITARY" AND "INTERVENTION" SHOULD NOT BE UTTERED.
Other political parties in Haiti are on board with this framing too.
Fanmi Lavalas threw their support behind international support for the PNH. The caveat being that this support must be a "Haitian initiative." Lavalas spokesperson Jodson Durogène made these comments in an interview with Alterpresse after meeting with CARICOM's delegation to Haiti, led by Jamaican President Andrew Holness on Feb. 27. This delegation follows the recent CARICOM biannual leaders meeting held Feb. 15-17, 2023, where military intervention was rejected.
Meanwhile, Pitit Desalin leader Moïse Jean Charles, who recently announced a new coalition of 20 political parties and civil society groups, stated that Haiti needs "an army to control the territory" in addition to "a professional police to guarantee the safety of the population." He made these statements upon arriving in Russia with the intent of "speaking to young people."
Henry's "December 21 Accord" Sets Back Montana
Henry and the Montana leadership have been vying for Washington's approval since the Montana Accord was announced. While the enthusiastic support for Montana from many in Washington seemed to indicate that a transition away from Henry was imminent, his new Dec. 21, 2022 accord called the"Consensus National for an Inclusive Transition and Transparent Elections," seems to have changed the calculus, or at least won him some time.
Both CELAC and CARICOM have "welcomed" Henry's Dec. 21 Accord while the Organization of American States (OAS) calls it an "important step forward."
CELAC and CARICOM both received Henry as Haiti's legitimate leader at their meetings in January and February respectively. CARICOM met in Haiti with civil society groups and political parties, including Montana Accord leadership, a week later. Holness led the delegation that spent only one day in Haiti listening to the concerns of these groups.
The Dec. 21 Accord does not represent a real broadening of consensus. Henry's own party, the PHTK, does not support it, along with other parties like Lavalas and the new coalition announced by Pitit Desalin leader Moise Jean-Charles. This coalition includes UNIR, GREH, the PHTK, MOPOD, LAPEH, Kontrapèpla, and the OPL.
On Jan. 30, Montana's designated Prime Minister, Steven Benoît, resigned. Montana spokesperson Jacques Ted Saint Dic called Benoît's resignation a "great sacrifice" that will "open up negotiation" so all parties can participate.
The move seems to have failed to gain Washington's favor, and Montana spokesperson Jacques Ted Saint Dic seems to realize this. During a recent interview on Magik 9, Saint Dic did a complete reversal on his earlier claims that the U.S. has a "powerful and important role" to play "in helping get democracy back on track in Haiti." In the interview, he said Montana is "an opposition force to international power," saying "the Americans hold the real power in Haiti " and that "Montana intends to seize power through negotiation, through social and citizen mobilization."
Is there any hope for solidarity with Haiti from CELAC and CARICOM?
The recent change in leadership at CELAC may work in favor of Haitians. Argentina's President Fernandez was replaced by Ralph Gonsalves, Prime Minister of Saint Vincent and the Grenadines. Gonsalves has been adamant that "any intervention in Haiti must have the buy-in of Haitian stakeholders." He also acknowledges that "that many Haitians do not recognize the present Haitian Government of Prime Minister Dr Ariel Henry."
Gonsalves is reluctant to support any kind of intervention while Henry is in power. Commenting in December 2022 on the possibility of a CARICOM-led intervention he said "fundamentally, any CARICOM Mission in Haiti must first be predicated upon a political/governance solution crafted by the Haitian stakeholders consequent upon an inclusive dialogue between them."
"Above all" Gonsalves continued, "Haitians must devise their solutions and lead the process themselves – representatives of all the Haitian people, not merely a government which lacks legitimacy and effectiveness."
GONSALVES ALSO HOPES "TO SEE THE END OF COLONIALISM IN OUR CARIBBEAN."
Gonsalves also hopes "to see the end of colonialism in our Caribbean." His anti-colonial views are centered on a desire to see Caribbean nations still under the yolk of the British Commonwealth to embrace Republican-style government. Gonsalves said he wants to see that "all or most of the independent CARICOM countries will move from a monarchical to a republican system."
Writing for Pressenza, Javier Tolcachier, a researcher from the World Centre of Humanist Studies, hopes Gonsalves' focus on decolonization will facilitate a sense of urgency for "safeguarding the self-determination of the Haitian people, currently under attack by foreign intervention and Henry's de facto government." Tolcachier also sees Gonsalves as a potential advocate for Haitian sovereignty and democracy in Haiti.
Gonsalves first diplomatic visit as CELAC's President is to meet with Venezuelan President Nicholas Maduro. Venezuela and Cuba have traditionally supported Haitian sovereignty and democracy. Maduro's statements at the CELAC Summit against interventionism will likely be amplified under Gonsalves' leadership, along with the pleas of Haitians to the region for respect for their sovereignty and show solidarity with them.
In an open letter to CARICOM leaders, BAI director and human rights lawyer Mario Joseph wrote that Haitians "would be deeply saddened to see our CARICOM brothers and sisters come here to arbitrarily shoot, massacre and arrest protesters and support a repressive government at the behest of powerful countries that gained their status through the Atlantic slave trade."
"We want CARICOM to insist once again that the international community stop supporting an unconstitutional and imposed regime and allow Haitians to find a democratic and lasting solution to our political crisis," he continued.
Joseph said Haitians "do not want our CARICOM brothers and sisters to come with arms to help powerful countries impose a repressive regime on us. We want our sisters and brothers to come in solidarity, with respect and democratic principles."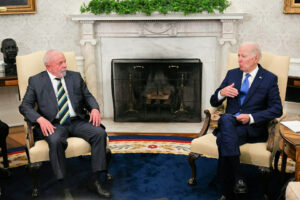 The risk in allowing Washington and the CORE group to "support the PNH" was apparent when former U.S. Ambassador to Haiti Pamela White, in the Dec.2 Washington Post, explained her plan for the Biden administration to send "2,000 armed law enforcers" to Haiti. To avoid the optics of thousands of armed U.S. soldiers landing in Haiti, White proposed that Washington "send in a couple of hundred at a time, over six months, with little fanfare."
A small brigade of foreign "law enforcers" or "advisors" could grow exponentially too if they clash with Haitians.
The number of PNH officers has dropped below 10,000, with many more trying to emigrate out of Haiti. To further complicate the situation, one report estimated that over half of current PNH officers collaborate with gangs or vigilance brigades. Haitian police are also chronically underpaid, leading many to work for private security companies. In 2012, an estimated 12,000 Haitians worked form private security firms for wealthy Haitians who can afford to foot the bill. Since then, the number has grown.
Were a "multinational force" organized under the banner of CARICOM, the OAS, or a "coalition of the willing," it remains unclear how that "support" would be staffed. The small number of Caribbean and Latin American countries who endorse a "multinational force" to "support the PNH" do not appear to have the resources or troops to accomplish the mission.
Who would lead the intervention?
This "multinational force" has no nation willing to lead it, as Brazil led the MINUSTAH. Holness' leadership of the Feb. 27 CARICOM delegation to Haiti suggests that Jamaica might accept the role.
Washington understands the importance of having a Latin American or Caribbean front on an intervention in Haiti. In a recent interview with Devex, a U.S. State Department spokesperson said that Washington has not given up on the idea of an international force for Haiti and that it continues to urge countries to participate: "Once a lead nation is identified, we expect to work with them and Ecuador, our new UN Security Council partner on Haiti issues, to draft a UN Security Council resolution authorizing this mission." Nonetheless, a Security Council veto from Russia is possible.
While a few CARICOM leaders have independently endorsed a military intervention in Haiti, Lula's position might sway many others.
During Lula's recent trip to Washington, DC, his discussion with President Joe Biden of "shared values" is ominous. Lula has, however, refused to support the escalation of Washington's proxy war in Ukraine and called for peace, thus aligning with his BRICS allies. If Lula leans towards intervention in Haiti, Gonsalves' position may work to counterbalance Brazil's influence on the region's leaders.
---
Travis Ross is a teacher based in Montreal, Québec. He is also the co-editor of the Canada-Haiti Information Project at canada-haiti.ca. Travis has written for Haiti Liberté, Black Agenda Report, TruthOut, and Rabble.ca. He can be reached on Twitter.