MST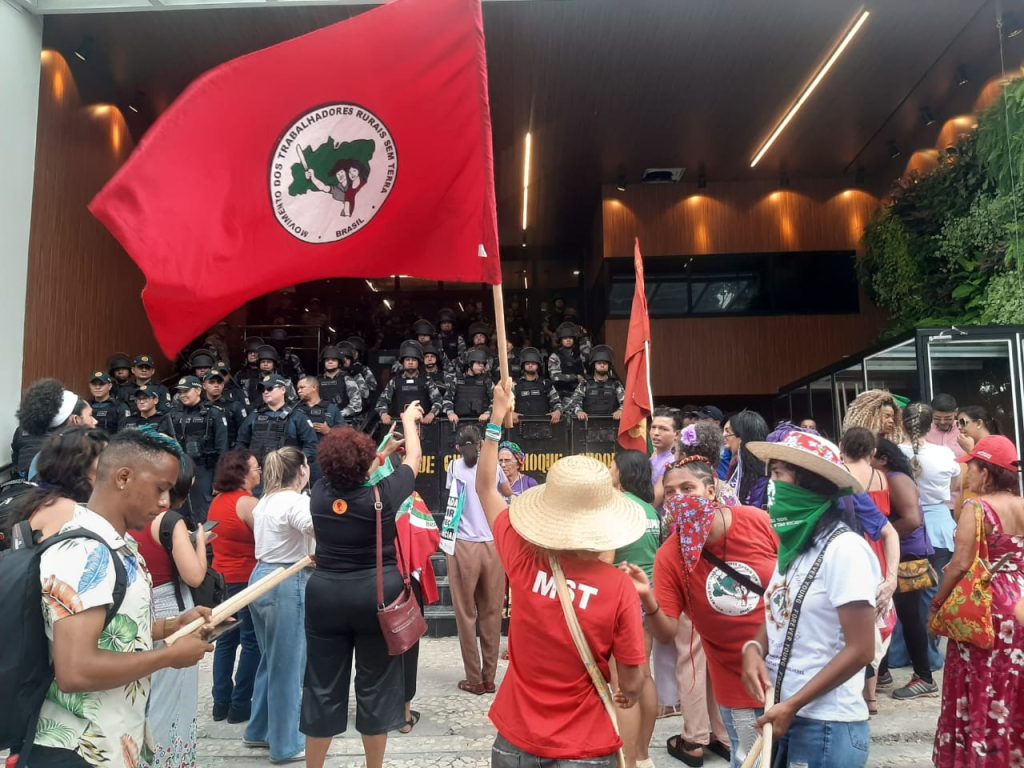 MST in Pará
On Wednesday, there were several incidents of repression against women by the police and private security forces
In mobilization all over the country, the National Day of Struggle of Landless Women gathered in 22 states and the Federal District, with marches, occupations of lands and public agencies and a series of educational camps. In at least three states, Rio Grande do Sul, Pará and Piauí, there were cases of repression against the mobilizations by the police and private security forces.
The most emblematic case occurred in Belém, when the Landless Women were harshly repressed by the Military Police when they approached the Legislative Assembly of Pará to negotiate their demands. The PM, on orders from the ALEPA president, used pepper spray and physical force against the demonstrators.  At least one of the participants had to be hospitalized.
The Landless Women denounce the various forms of patriarchal and racial violence, which have affected people in vulnerable conditions and made victims, such as the cases of feminicide, LGBTIphobic murders and suicides that have been experienced in recent years. On this path, they also announce the willingness to build emancipated human relationships, free from all forms of violence.
"We need to maintain and expand popular organization, because this is a Government in which rights will have to be defended and conquered daily, both in dialogue and in struggle. We demand the repeal of EC 95, the New High School, the Labor Reform and many other agendas, which will only be possible to be implemented with a lot of struggle and grassroots organization," explains Lucinéia.
In Rio Grande do Sul, the Landless Women who were on their way to the Unified Act in Porto Alegre had several buses intercepted at different arrival points in the capital city. The orchestrated action reminded the women of the action of the PRF during the elections, with buses intercepted in RS by the PRF.
In the Northeast, the more than 500 women from Campo Unitario took to the streets of Teresina (PI) and made a big action to denounce the company Equatorial Energia, to claim the high cost of electricity and the terrible energy supply in the state of Piauí. The women were received with gunfire in an attempt to repress and prevent the denunciation.
On Tuesday, 07, 400 women were at the Karnak Palace, seat of government of the state of Piauí, where they dealt with the governor and other state secretaries the agendas for the territories in which the social movements of the countryside
In Pará, installed in the capital since Tuesday (07), the women's mobilization was harshly repressed. Police used pepper spray against peaceful demonstration that arrived in the Legislative Assembly of the State of Pará.
Edited by Fernanda Alcântara
---