Matt Kennard

An aerial view of RAF Akrotiri, the British air base on Cyprus where US military personnel are deployed. (Photo: Google Earth)
US Air Force is expanding its deployment on RAF's Cyprus base to 129 airmen
New 147-room installation is being built by US military across 1.5 acres of British base to house its personnel at cost of $27m
US spy force, 1st Expeditionary Reconnaissance Squadron, is permanently deployed at the British base 
UK Ministry of Defence refuses to disclose number of US military personnel on the British territory—or if American bombing missions are flown from it
Pentagon claims it only has one airman on Cyprus—and ignores Declassified's request for clarification
Top secret GCHQ document notes: "Cyprus hosts a wide range of UK and US intelligence facilities"
Cypriot working on the UK base area tells Declassified: "There is a big US presence, I don't know how that works or why"
The US military is planning to deploy at least 129 airmen to British territory on Cyprus by next year, Declassified can reveal.
The number of US troops on the UK's so-called Sovereign Base Areas (SBAs), which comprise 3% of Cyprus's landmass, has long been secret.
"We do not propose to release the numbers of US personnel participating in current or future operational activities [on British Cyprus]", the Ministry of Defence (MoD) recently told parliament.
The US Department of Defense (DoD), meanwhile, claims it only has 14 personnel deployed in Cyprus, including nine Marines and just one airman. The department did not respond to Declassified's request for more information and comment.
But Declassified has seen a US Air Force (USAF) document with details of a construction project on RAF Akrotiri, the UK's "extremely busy" air base on Cyprus from which it flies bombing sorties across the Middle East.
The document, prepared in March 2019, notes there were then 87 US airmen deployed to RAF Akrotiri in 2018, including 12 officers.
But the US planned to increase its personnel levels by 48% over the next six years. By 2024, the US plan was to have 129 airmen deployed to the base, 15 of them officers.
The real figure for US military personnel based on British Cyprus is likely to be higher.
There are multiple other garrisons and military installations across the two British SBAs – known as Dhekelia in the east of the island and Akrotiri in the west – and at the UK's so-called "retained sites" in Cyprus proper. These likely host some US military personnel.
The US spy squadron
The document contains details of the construction of a new dormitory facility on RAF Akrotiri for USAF personnel.
The US military planned to demolish eight facilities to build a new dormitory for its airmen over 1.5 acres, at a cost of $27m (£22m).
The dormitory is to house personnel from the 1st Expeditionary Reconnaissance Squadron (ERS), the document notes.
This squadron is the US military's oldest flying unit and responsible for training all high-altitude intelligence and reconnaissance aircrew for the U-2 spy plane, which was originally operated by the CIA.
The ERS, which is headquartered at Beale Air Force Base in California, also flies 2,400 hours of "combat support" missions annually with the RQ-4 Global Hawk, a surveillance drone manufactured by US arms company Northrop Grumman.
It is unclear if any of these US combat support missions are flown from the British base on Cyprus.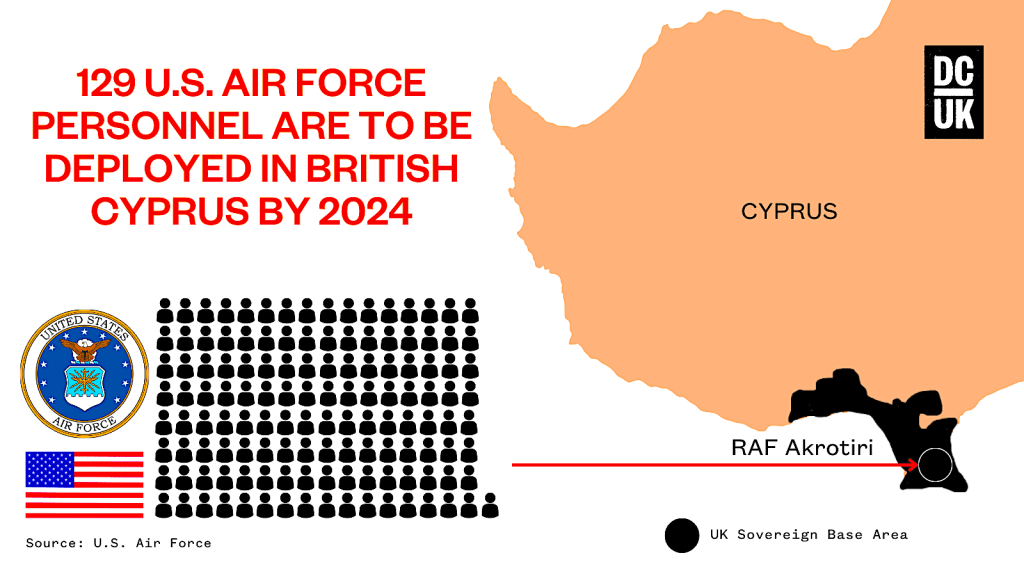 "United States Air Force (USAF) operations and facility requirements in the construction location are not to be identified and should be protected", the document notes.
The previous living accommodation for the US personnel on RAF Akrotiri consisted of 104 bed spaces spread across eight dormitory facilities and was provided by the British. In 2019, the buildings were over 60 years old.
"The current prefabricated wooden facilities were only built to last 20 years so they have far exceeded their useful life," the US concluded. "Approximately 4-5 rooms are closed for maintenance at any given time, therefore reducing operational capacity."
The facilities were not sufficient for the US military presence, it added. "During changeover there are not enough open bed-spaces, forcing outbound personnel to stay up to three weeks off-base at a premium rate," the document continued. "Due to the classification and sensitivity of the mission, this raises Anti-terrorism and Force Protection (AT/FP) concerns."