Cuba in the Eye of Washington's Hurricane
Manolo De Los Santos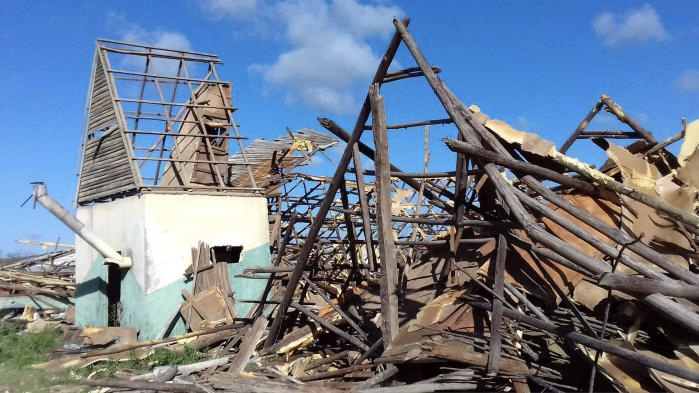 Since the Cuban Revolution triumphed in 1959, the United States has been at odds with the island's independent path.
Hurricane Ian lashed at western Cuba on September 27, 2022. I waited desperately for a phone call from my friends in Puerto Esperanza, a small fishing village on the northern coast of Pinar del Río. Over a crackling phone line, my friends told me that the hurricane had ripped off the roofs of their houses and had cut their electricity supply. But they were safe. What comes next for them and their recovery from the loss and devastation caused by the hurricane is uncertain under the weight of a US blockade that is now being overseen by US President Joe Biden.
Since the Cuban Revolution triumphed in 1959, the United States has been at odds with the island's independent path. This led to the startof a blockade on all trading activities between Cuba and the United States in February 1962, and the continued imposition of the blockade has put maximum pressure on the 11 million people who live on the island. Cubans have been resilient while dealing with these sanctions, which is "the longest embargo in modern history." However, over the past five years, the United States has tightened its blockade by putting in place 243 new sanctions, reversing the process of normalization that began under former US President Barack Obama in 2014 (and culminated in Obama's visit to Cuba in 2016). Despite Biden's campaign promise to ensure a more balanced foreign policy toward Cuba, compared to the approach followed by former President Donald Trump, Biden has increased pressure on the country.
Maximum pressure
When the COVID-19 pandemic struck, Cuba was fortunate to have a robust public health care system and an innovative biotechnological industry. However, under Trump—and later Biden—sanctions put enormous pressure on Cuba's ability to respond to the pandemic. As the number of Delta variant cases grew in Cuba, its only oxygen plant was rendered nonoperational due to the inability of the plant's technicians to import spare parts because of the US blockade. As thousands of Cuban patients gasped for air, oxygen had to be rationed. Washington refused to make an exception. Cuban scientists created five vaccine candidates; only after most Cubans were vaccinated with these vaccines did Washington make an offer of donating US-made vaccines to Cuba.
Back in 2017, the United States said that the Cuban government had used sonic weapons to attack its embassy—a phenomenon called "Havana syndrome"—which was shown to be untrue. Nonetheless, it served as a pretext for the United States to freeze relations with Cuba. For example, tourism began to collapse, and the island lost revenue as more than 600,000 people from the United States stopped traveling to Cuba annually. The US government's sanctions under Trump led to Western Union's seizing operations on the island in 2020, cutting off the ability of families to send and receive remittances. Visa services were suspended by the US Embassy in Havana, and the largest wave of irregular migration since 1980 began as Cubans were forced to trek through Central America or across the Florida Straits to arrive in the United States.
Cubans suffered through this tightened blockade with the US offering no respite. The gross domestic product of the country began to shrink as the government and other entities could no longer purchase food, medicine, and oil because banks refused to handle these basic commercial transactions.
Using pain to put more pressure
On July 11, 2021, people across Cuba took to the streets to protest the difficult living conditions due to the scarcity brewed by the sanctions imposed by Washington. The US government, from Biden to the lowest employee at the US Embassy in Havana, did not waste any time before making a statement about the need to change the government in Cuba in response to the protests. They tried to spin the Cuban people's protests over sanctions-related deprivation into an uprising for regime change, a core demand of a Miami mafia of Cuban exiles. The Cuban government was able to withstand that attempt by being as forthright as possible with the people about the range of problems that they face.
The year 2022 has not been any easier for the Cuban people. In August, the national energy grid began to suffer major signs of decay after years without repairs or renovations. Power cuts, a stark reminder of the "special period" during the 1990s when Cuba faced a similar power situation, have become ever-present from one end of the island to the other. Some provinces go without electricity for eight to ten hours. Then came the explosion of the Matanzas oil storage facility that left Cuba without urgently needed fuel and resulted in dozens dying while fighting the fire that raged on for five days. While Mexico and Venezuela immediately sent firefighters and equipment, the United States could only contribute with technical advice over the phone despite the call by US activists, clergy, and intellectuals to provide more sizable aid.
Hurricane Ian's assault on the island on September 27, 2022, has left behind devastation, with more than 50,000 homes damaged, Cuba's tobacco crop deeply impacted, and its electricity grid damaged (although it is functional again for now).
Washington's rigidity
All eyes turned to Washington—not only to see whether it would send aid, which would be welcome, but also if it would remove Cuba from the state sponsors of terrorism list and end the sanctions. Cuba's inclusion on the list had been a last-minute decision made by Trump as he was leaving the White House (despite Cuba's recognized role in the Colombian peace process). These measures mean that banks in the United States and elsewhere are reluctant to process any financial transactions, including humanitarian donations, for the island. The United States has a mixed record regarding humanitarian aid to Cuba.
Rather than lift the sanctions even for a limited period, the US government sat back and watched as mysterious forces from Miami unleashed a torrent of Facebook and WhatsApp messages to drive desperate Cubans onto the street. In Havana, a few hundred people spread across the city banged pots and pans and demanded water, electricity, and food. Foreign journalists eagerly expected scenes of heavy repression and mass arrests, but this time Cuba's response was one closest to its political tradition. Leaders of the Communist Party began to arrive at protests to speak to the people. Angel Arzuaga Reyes, responsible for the party's international relations department, while speaking of his experience in the Diez de Octubre neighborhood, said that in those tense moments, promises or immediate solutions couldn't be made, but explanations and information could be given to all those protesting.
The Cuban people are not the kind to give up easily and have a history of resilience. Many Cubans are facing the crisis by laughing and fighting through it. Walking in Havana only a few days after the hurricane, the signs of recovery were clear. Brigades of electricians working nonstop reestablished power back in record time and volunteers have cleaned most of the city leaving very little trace of Hurricane Ian's destruction. After his fourth visit to Pinar del Río since September 27, Cuban President Miguel Díaz-Canel, surrounded by an anxious crowd, said, "what we can't do is surrender or remain with our arms crossed." There is yet much to do, but Cubans are determined to overcome all obstacles that come their way.
---
Manolo De Los Santos is the co-executive director of the People's Forum and is a researcher at Tricontinental: Institute for Social Research. He co-edited, most recently, Viviremos: Venezuela vs. Hybrid War (LeftWord Books/1804 Books, 2020) and Comrade of the Revolution: Selected Speeches of Fidel Castro (LeftWord Books/1804 Books, 2021). He is a co-coordinator of the People's Summit for Democracy.
How did a hurricane kill over 100 people in Florida?</strong
Natalia Marques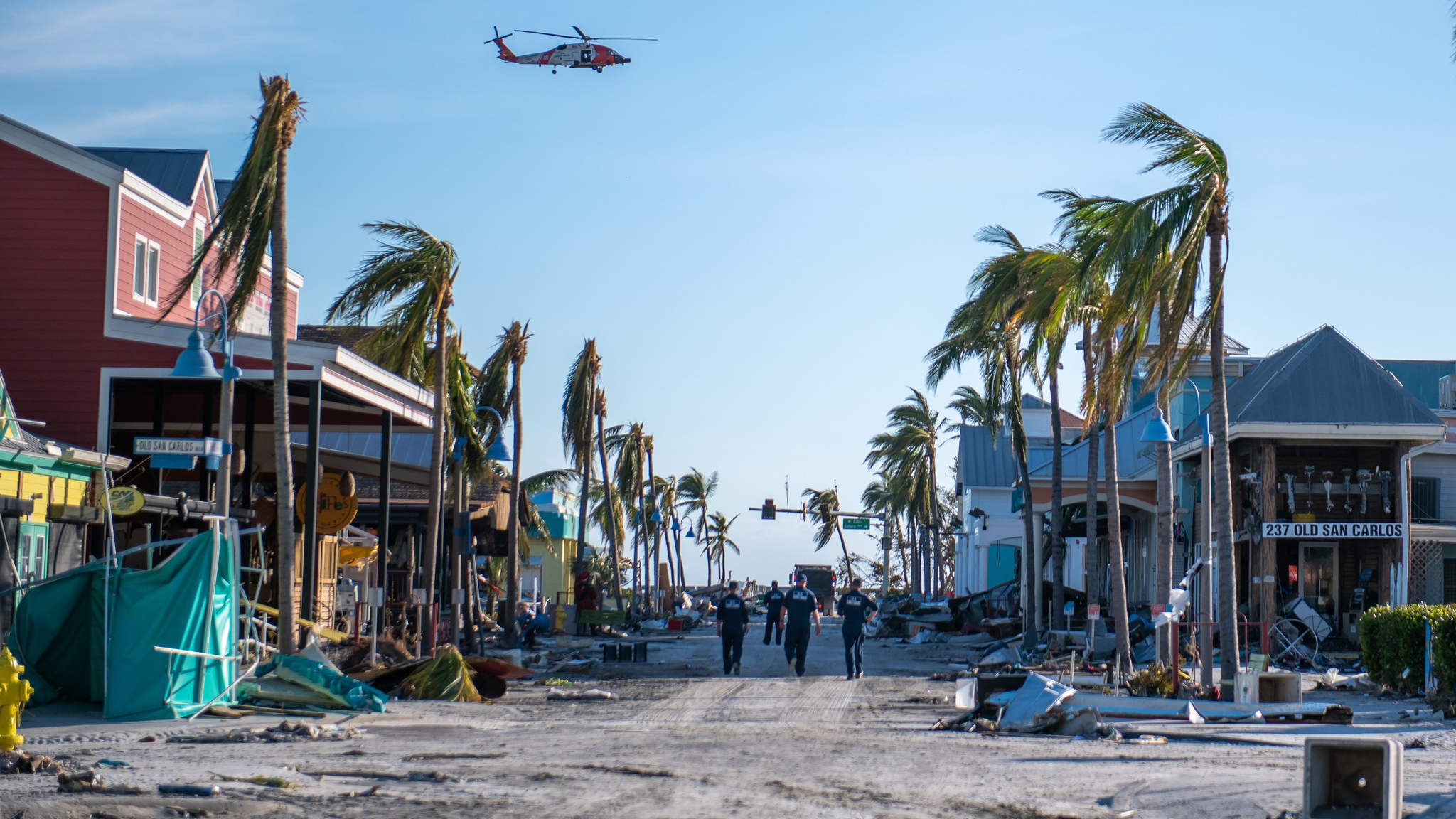 Fort Myers Beach post-hurricane (Image via: US Coast Guard)
Some accuse the US of disregarding human life in its evacuation and relief strategy after over 100 died and thousands were displaced or went missing
Over 100 people are dead in Florida after Hurricane Ian ripped through the state, making landfall on September 28 as a Category 4 storm. Over 202,000 Florida homes and businesses are still without power. The hurricane caused damage that Biden claimed could rank as "the worst in the nation's history,"  with economic damage that could cost up to $75 billion—possibly among the five costliest storms in US history.
The death toll combined with the imagery of utter destruction paints a harrowing picture of the fate of Floridians after this storm. Cities such as Fort Myers were leveled, Sanibel Island completely cut off from the mainland, and 3.4 million homes and businesses experienced power outages across several states and a boil water notice was issued in the hardest hit county. Thousands of homes were destroyed, and days after the storm 1,700 people were in shelters and thousands reported missing.
Storm surge outside of my moms house on Fort Myers Beach.

I'm so sick. pic.twitter.com/12ujJqmacH

— Beth Booker (@itsbethbooker) September 28, 2022
Fort Myers Beach is gone. Hurricane #Ian's storm surge caused catastrophic damage. Getting flashbacks to Katrina along the Mississippi Gulf Coast. 😢💔 #flwx pic.twitter.com/xpjYhAIbxf

— Dylan Federico (@DylanFedericoWX) September 29, 2022
"They didn't actually do anything to evacuate people"
For many, the response of the US government to natural disasters is structurally inefficient due to the emphasis on individual responsibility. While local and federal governments often issue evacuation orders, the government rarely steps in to help with transport, shelter, and paid time off work. Finding the means to take time off work, arrange alternative housing, and pay for transport takes a huge financial toll on many workers. As a result, only the more affluent can easily evacuate.
The delayed issuing of evacuation orders also has serious consequences. In Florida's Lee County, the hardest hit by Ian, evacuation orders were issued less than 24 hours before the hurricane was expected to hit. Hurricane expert Bill McNoldy wrote on Twitter of the Lee County evacuation, "That long-delayed evacuation of a high-risk area seemed troubling and suspicious… and it was. The forecasts were good, but the response to them was botched, with deadly consequences."
"They gave out this evacuation order, but they didn't actually do anything to evacuate people," Bobby Ewing, lifelong Florida resident living in Riverview, who lost power for five days, told Peoples Dispatch. "Because you see them on the news now going into the affected areas and rescuing people. And it's like, okay, why weren't you guys doing that before the storm hit? Because if they had been doing it before the storm hit, they could have saved probably hundreds of lives."
Prison officials refused to evacuate the Lee County jail at all. A Lee County Sheriff's spokesperson said, "In an abundance of caution, inmates were relocated within the main jail to a higher floor." The experience of a prisoner at the Lee County jail during the hurricane was recounted in the Miami New Times: toilets overflowing with human waste, dirty and brown tap water, and being deprived of clean bottled water.
Neighboring Cuba was hit by the same Hurricane, albeit as a Category 3 storm. Only three people died in Cuba. Some point to Cuba's excellent reputation with hurricane preparedness as the cause of the low death toll. The government in Cuba takes full responsibility for evacuation, transporting and sheltering people before a hurricane. Before Ian made landfall, the Cuban state had evacuated 50,000 people to 55 shelters.
"I would say the biggest difference always for Cuba is that its utmost priority is saving and maintaining human life," Manolo de los Santos, a leader in the Cuba solidarity movement, told Breakthrough News last year when Hurricane Ida devastated the US. "Whereas in the US, it always seems to be how to take care of private property before anything else." Ida's death toll in the US was 87. In Cuba, it was zero.
Floridians abandoned after the storm
After Hurricane Ian, many feel abandoned by the government's relief efforts. In Lee County's Pine Island, the Lee County Sheriff's Office went as far as to threaten volunteers with arrest for attempting to run supplies out to the island. "We usually are welcomed by the local government and law enforcement," volunteer Jennifer Leatherman-Toby told News-Press. "But in this case, we have been turned away at every corner we've come around."
Some seeking help from the Federal Emergency Management Agency (FEMA) are equally vexed. Despite over 200,000 having applied for FEMA assistance, only 99,000 had been approved. According to the Red Cross, FEMA was referring people to the nonprofit for temporary housing assistance, even though the Red Cross's policy was to refer people back to FEMA.
On September 30, Congress approved of a measure that allows FEMA to access $19 billion in disaster funds. All 16 of Florida's Republican members of the House of Representatives opposed the bill. Senator Rick Scott of Florida also opposed, and Senator Marco Rubio of Florida missed the vote.
Some of the worst impacts of the hurricane may not be felt for months or even years. Hurricane Ian leveled thousands of homes in a state already starved for affordable housing. According to the University of Florida's Shimberg Center for Housing Studies, more than a quarter of total households pay over 30% of their income on their rent or mortgage. These rent burdened workers cannot afford flood insurance—only 18.5% of homes in Florida counties that issued evacuation orders have coverage under the National Flood Insurance Program.
After Hurricane Katrina, which hit in 2005, displaced over 800,000 people in the New Orleans region in 2005, many Black working class residents simply could not afford to move back into their old neighborhoods. Developers had exploited the disaster to build and rezone, ensuring that the more low income Black population would not return as rents skyrocketed. The Black population shrunk by 94,276 people from 2000 to 2020 according to the US Census.
Cuba offered to send 1,600 medics, field hospitals and 83 tons of medical supplies to the US after Katrina. The George W. Bush administration rejected the offer. At the time, White House spokesperson Scott McClellan said, "When it comes to Cuba," said McClellan, "we have one message for Fidel Castro: He needs to offer the people of Cuba their freedom." Katrina's death toll was over 1,800 in the US.
It's unclear how precisely Hurricane Ian or future hurricanes will impact the people of Florida and across the US. Due to climate change, extreme weather events are only increasing in frequency and intensity.
"Wouldn't it have been easier if the city, county, or state took responsibility on a regular basis for stocking up and providing free food, water, batteries, as well as free transportation for those who need it, to already-arranged temporary free accommodation?" Florida resident Jeff Bigelow told Peoples Dispatch. "What about guarantees of someone's job and pay during the hurricane?"
"It is one thing to say let's put profits before people, but another to make that idea concrete…And along the way there is a path of struggle that could make things better."