CJ Hopkins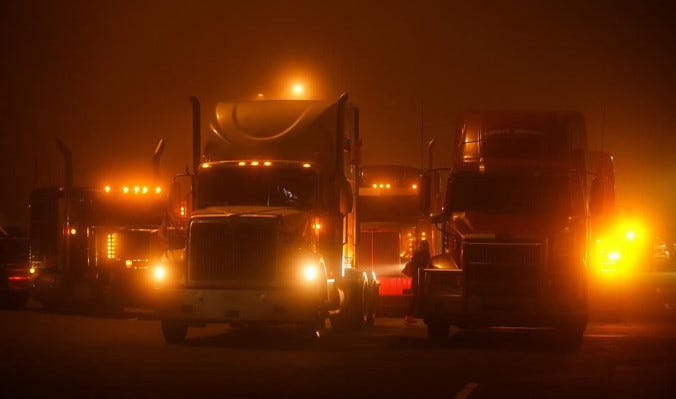 Editorial Comment: The following article is political satire mocking the disinformation tactics used against the rebellion against tyranny being promulgated by the faux-left and fascist, racist government-funded media in Canada. – A.V.
They rolled up on Ottawa's Parliament Hill like one of the plagues in the Book of Revelations, honking their infernal air horns, the grills of their tractors grinning demonically, the sides of their dry vans painted with blasphemies like "FREEDOM TO CHOOSE," "MANDATE FREEDOM," "NO VACCINE MANDATES," and "UNITED AGAINST TYRANNY."
Yes, that's right, New Normal Canada has been invaded and now is under siege by hordes of transphobic Putin-Nazi truckers, racist homophobes, anti-Semitic Islamaphobes, and other members of the working classes!
According to the corporate media, these racist, Russia-backed, working-class berserkers are running amok through the streets of Ottawa, waving giant "swastika flags," defecating on war memorials, sacking multi-million-dollar "soup kitchens," and eating the food right out of homeless people's mouths. Rumor has it, a kill-squad of truckers has been prowling the postnatal wards of hospitals, looking for Kuwaiti babies to yank out of their incubators.
I know, this is Canada, so that sounds a little dubious, but this has all been thoroughly fact-checked by the fact checkers at the New Normal Ministry of Truth … you know, the ones that fact-checked Russiagate, and the Attempted Putin-Nazi Insurrection of January 6 at the US Capitol, and the safety and effectiveness of the Covid "vaccines," and the masks, and the inflated Covid statistics, and the rest of the official Covid narrative.
Or just take it from Prime Minister Justin Trudeau …
Now, this is the actual prime minister of Canada, not just some woke fanatic on Twitter. He was tweeting from his fortified Covid Bunker in an undisclosed location somewhere in the Yukon, or possibly the United States, where he fled as the transphobic Putin-Nazi truckers rolled up outside his office in Ottawa. Trudeau had vowed to stand and fight, but he had no choice but to flee the capital after he mysteriously tested positive for Covid (which also might have been the work of the Russians, possibly the same professional team of weed-smoking, hooker-banging Novichok assassins that got to the Skripals back in 2018).
Russian involvement has not yet been confirmed by the ex-CIA and NSA officials posing as "analysts" on CNN, but according to the CBC, "there's concern that Russian actors could be continuing to fuel things as the protest grows, and perhaps even instigating it from the outset."