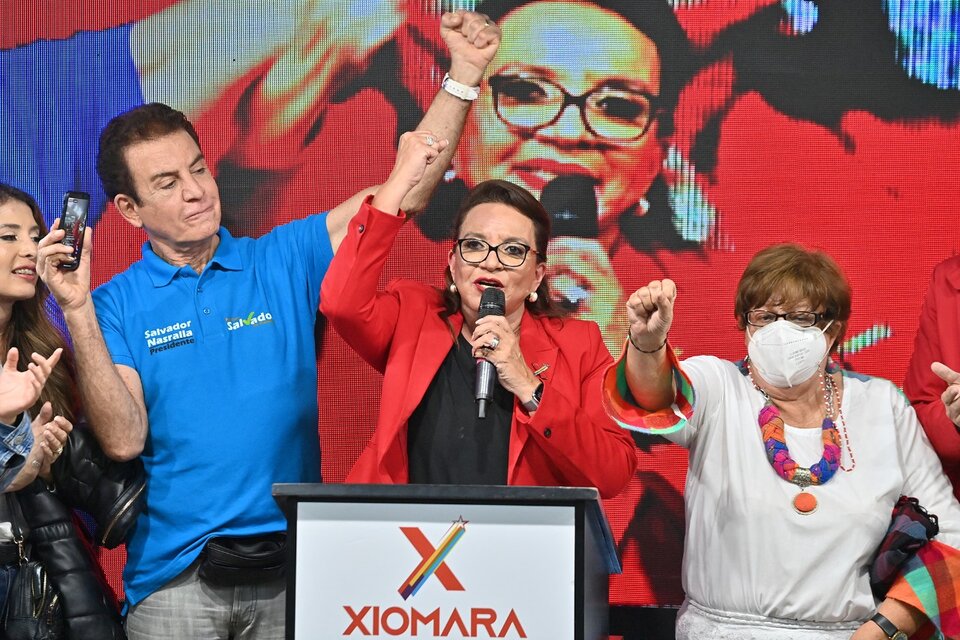 Xiomara Castro, proclaimed president-elect of Honduras and first woman to govern the country, celebrated her triumph at the polls this Sunday and announced that she will form a government of "reconciliation", of "peace and justice".
Although the scrutiny continues, the candidate of the Liberty and Refoundation Party (Libre) is imposed with a wide advantage to the official Nasry Asfura (National Party).
Xiomara Castro de Zelaya
@XiomaraCastroZ

Thank you people! We turned 12 years of tears and pain into joy. The sacrifice of our martyrs was not in vain. We will begin an era of prosperity of solidarity through dialogue with all sectors, without discrimination and sectarianism. 🇭🇳 ❤️
"We are going to initiate a process throughout Honduras to guarantee a participatory, direct democracy, because we are going to hold popular consultations. That will be a rule to govern," Castro said in a speech he gave at the command of Libre.
The president-elect, wife of former president Mel Zelaya deposed by a coup d'état in 2009, will succeed Juan Orlando Hernández, questioned for corruption and whose party would be ousted after 12 years in power.
"I reach out to my opponents because I have no enemies. I will call for a dialogue starting tomorrow with all sectors of the Honduran nationality so that we can then find points of coincidence and that this will allow us to form the minimum bases for the next government", she added.
Castro assured that they will "give soul, life and heart to guarantee a different country, a fair and just country, a free and independent Honduras with the capacity to respond to so many needs".
"No more war, no more hatred, no more death squads, no more corruption, no more drug trafficking. No more poverty and misery in Honduras. Until victory always," she concluded.