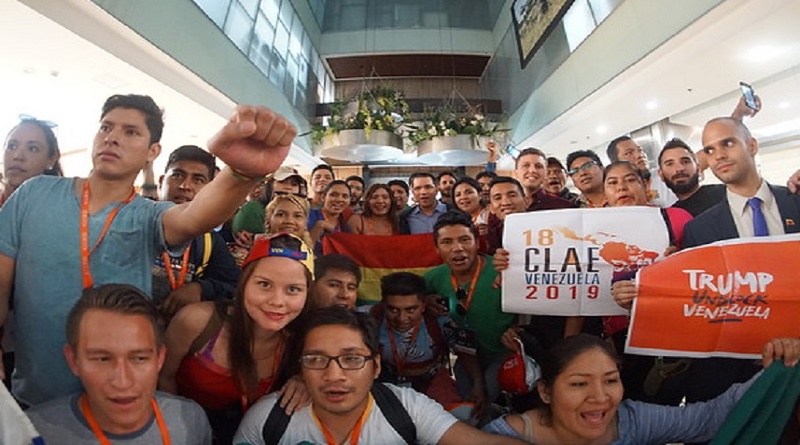 The Foreign Minister of the Bolivarian Republic of Venezuela, Jorge Arreaza, urged the youth to radicalize the revolutionary processes: "We are a continent in conflict. Either we are under the control of the empire, or we are under the control of our sovereign peoples, it is an historic struggle," he said during a visit by the Bolivian delegation to the Ministry of People's Power for Foreign Affairs (MPPRE), in the context of the XVIII Latin American and Caribbean Congress of Students (CLAE).
Permanent Revolution
During the students' political debate titled Democracy of the Peoples, the Venezuelan diplomat highlighted the importance of maintaining the spaces created in Revolution, "we have the commitment to maintain and radicalize the revolutionary processes in our countries (…) to go to the root of the problems, of the contradictions and solve them with the people".
Likewise, he stressed to the youth the importance of defending political spaces, as trenches of thought, "politics is the right we all have to dream and struggle to make a better world possible. If we want to be free, we must break the pendulum, we must make permanent and sustainable revolutions by democratic means".
Faced with so much virulence, so much evil against Venezuela, Arreaza called on the young people of the world to break the pendulum, beware of divisions, it is necessary to live with contradictions, overcome differences, keep the horizon clear and get there, said the minister, reviewing a publication from the MPPRE website.
In the same way, the Venezuelan diplomat insisted to the youth to make the Revolution by votes, through the democratic process, with the majority.
Legacy of Hugo Chávez
Chancellor Arreaza shared with the young people some reflections on the legacy of the Leader of the Bolivarian Revolution, Hugo Chávez.
"It has been demonstrated that Chávez did not die, we find him in the smile of the children, in the elders who experienced the horrors of the fourth (…) that is something that the think tanks do not understand," he said.