Peoples Dispatch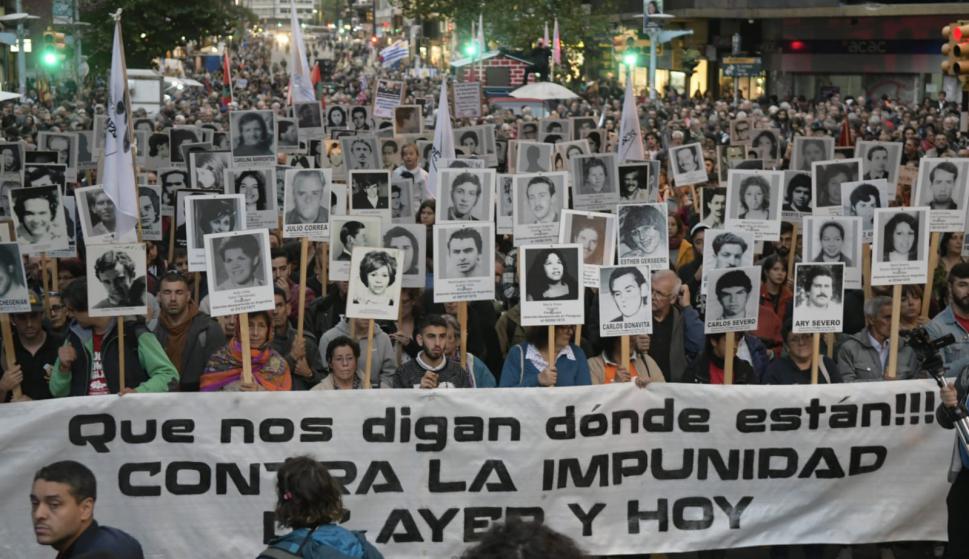 Thousands marched in silence to demand justice for the victims of the civic-military dictatorship and an end to impunity. Photo: El Pais Uruguay
On March 22, with the banner of "Tell us where they are! Against the impunity in past and present," thousands of Uruguayans took part in the 24th Silent March in Montevideo demanding to know the truth about and justice for all the people detained and disappeared during the last civic-military dictatorship.
Despite heavy rain, a multitude of mothers and relatives of the disappeared people as well as members of several social movements, human rights organizations and political parties, with umbrellas in one hand and the posters with photos of the disappeared people in another, marched demanding an end to impunity. The mobilization began from the Monument for Disappeared People, located at the General Rivera and Juan D Jackson Avenue, passed through 18 de Julio Avenue and concluded at the Plaza Libertad.
Although a thousand people mobilized, the only sound that was heard was of the rain. However, the placards held by protesters spoke volumes. 'Never forget never pardon', 'Where are our disappeared friends?', 'Truth and Justice, rights of all citizens, responsibility of the State', etc. read some of the posters and banners. There were also posters with the photographs of former presidents Julio María Sanguinetti, Luis Alberto Lacalle, Jorge Luis Batlle and José Mujica, and current president Tabaré Vázquez that read 'People responsible for the impunity'.
Similar marches against the policies of oblivion and impunity of the Uruguayan government were carried out in 20 other cities. The Uruguayans also received international support. Mobilizations and acts of solidarity were held in Barcelona, ​​Madrid, Spain; Paris, France; Santiago de Chile, Chile and Buenos Aires, Argentina.
The call for the mobilization was given by the Mothers and Families of Detained Disappeared Uruguayans. "The silent marches express the will of thousands of citizens throughout the country, who do not want this history to repeat itself. Dictatorship or state terrorism never again!," said the organization in its convening statement. The organization also highlighted that the march every year is "a warm demonstration of solidarity with those who suffered and still suffer the consequences of the barbarism of State terrorism, and particularly with the struggle of mothers who found their children and who are still looking for them."
Since 1996, every May 20, Uruguayans march to demand truth and justice for the 200 people disappeared during the 12 years of dictatorship between June 27, 1973 and March 1, 1985. This period of military dictatorship was marked by prohibition of political parties, criminalization of trade unions and media, and persecution, imprisonment and assassination of the opponents of the regime.
This year, the march was carried out amid disappointment towards the left-wing government of Vázquez for lacking the political will to carry out judicial proceedings effectively which has guaranteed impunity for dozens of former military officers.