Marco Teruggi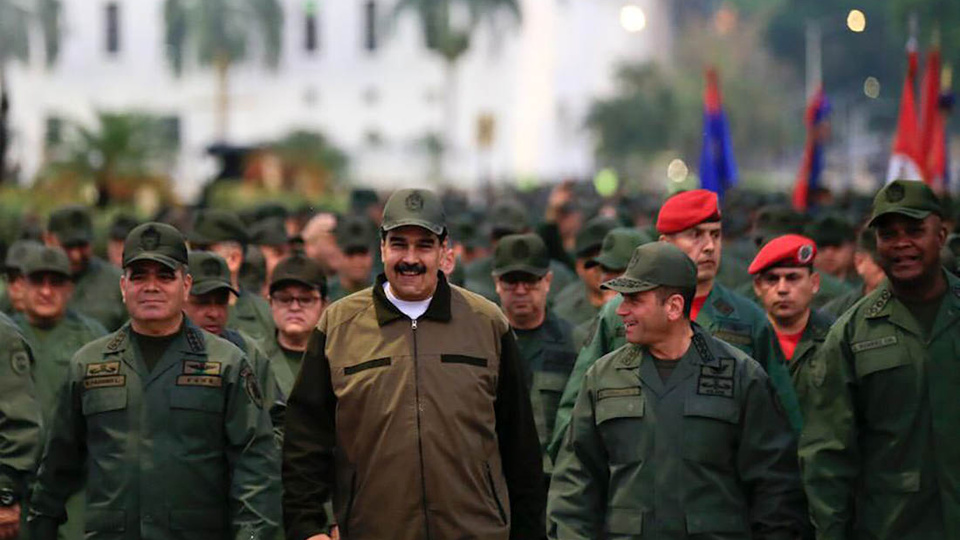 One of the epicenters of news, analysis and speculation has centered since January on the Bolivarian National Armed Force ( FANB). Images of April 30 at dawn, with a small group of members of the Bolivarian National Guard, placed this subject at the center of all hypotheses. Some asserted that rupture was imminent, others minimized the events of the 30th due to its limited size and with no sequential effect in barracks and high commands.
In this context, President Nicolás Maduro appeared on Thursday morning at a ceremony at Fort Tiuna, one of the country's principal military installations, located in Caracas. At his side were the high commands of the FANB, with 4,500 troops of all ranks.
There he spoke about the situation, the foes and the challenges: "We are fighting against imperialism, traitors and coup plotters, a fight on all fronts, on all lines, for the defense of our dignity, our honour, the very right of our Republic to exist, and our national identity, FANB must stand before the people united, cohesive, increasingly disciplined, subordinated to the constitutional command, increasingly obedient to principles and values, it must stand as a national force of peace, democratic, constitutional, Bolivarian".
The presence of Chief General Vladimir Padrino López was particularly important, in view of the statements that had been given in previous days by US Secretary of Defense John Bolton and the special representative for the Venezuelan situation, Elliot Abrams. Both had affirmed that Padrino López, as well as other high commanders, had been involved in an agreement to disown Maduro and align with Juan Guaidó, to set up a shared government. Abrams affirmed that fifteen points had been agreed upon and that, at the last minute, those who had committed themselves had failed to act.
Bolton's and Abrams' statements had several implications: that Padrino López was part of the coup plan, that he had given a false promise to mislead and create a vacuum, or that it was a U.S. operation to sow doubts, crises and suspicion within the Chavista leadership. The general in chief, who yesterday and the day before yesterday had demonstrated his adherence to constitutionality, made a clear statement to resolve doubts that were still circulating.
"They are looking for a way to confront us with clean lead and we are not here to destroy ourselves, we are here to defend the homeland, just as we appear before the people, united, cohesive, aware of the historical moment we are living, we have to continue along that path, fighting for our independence, which is the most sacred thing," said Padrino López, alongside Maduro, as well as the strategic operational commander of the FANB, Remigio Ceballos, facing troops and officers.
The image was one of strength, particularly in contrast to the small military group that led the action on the morning of the 30th, accompanied by armed civilians, as seen in images. Several of those Bolivarian National Guard soldiers are hiding in the Brazilian embassy. President Jair Bolsonaro, who from the outset has shown firm support for Guaidó, said the action of the 30th had "no aspect of a serious rebellion or of a real possibility that it would result in a fall of the government". Hamilton Mourao, vice president, said: "There was haste but now there is no turning back".
Thursday's action by the president with the FANB had the effect of ending the most complex 48 hours since Guaidó was named president by Donald Trump. The US president, who claimed to follow closely the events in Venezuela, gave an address Wednesday night to discuss the situation and possible solutions being prepared from the US.
"There are many options open (…) some of them I don't want to mention because they are very tough," he said in his opening remarks. Then he added: "We are doing everything we can do, with the exception of the most extreme measure (…) there are people who want us to resort to the most extreme measure, but we have many alternatives", he affirmed, maintaining a stance that he has adopted in September 2017 when he first proposed the possibility of a military solution that, from that point on, he used as a pressure mechanism without ever taking a greater step towards actual activation. That same narrative is maintained, for example, by Secretary of State Mike Pompeo and Vice President Mike Pence.
Trump again underscored his support for Guaidó, accused the governments of Cuba and Russia of being the ones that permit the government to continue standing, and affirmed that Maduro "is losing control". He added that "a lot of things are going to happen next week, and maybe sooner".
The climate is still tense in Venezuela. The streets exhibit a normality that, as is known, can be broken at any moment considering the recent events of attempted assault, street violence led by the right which seeks to generate casualties as happened in 2017, and statements like those of Trump. In this context, Maduro's actions have shown a unity and strength in the heart of power, the Chavismo government.
Translation by Internationalist 360°