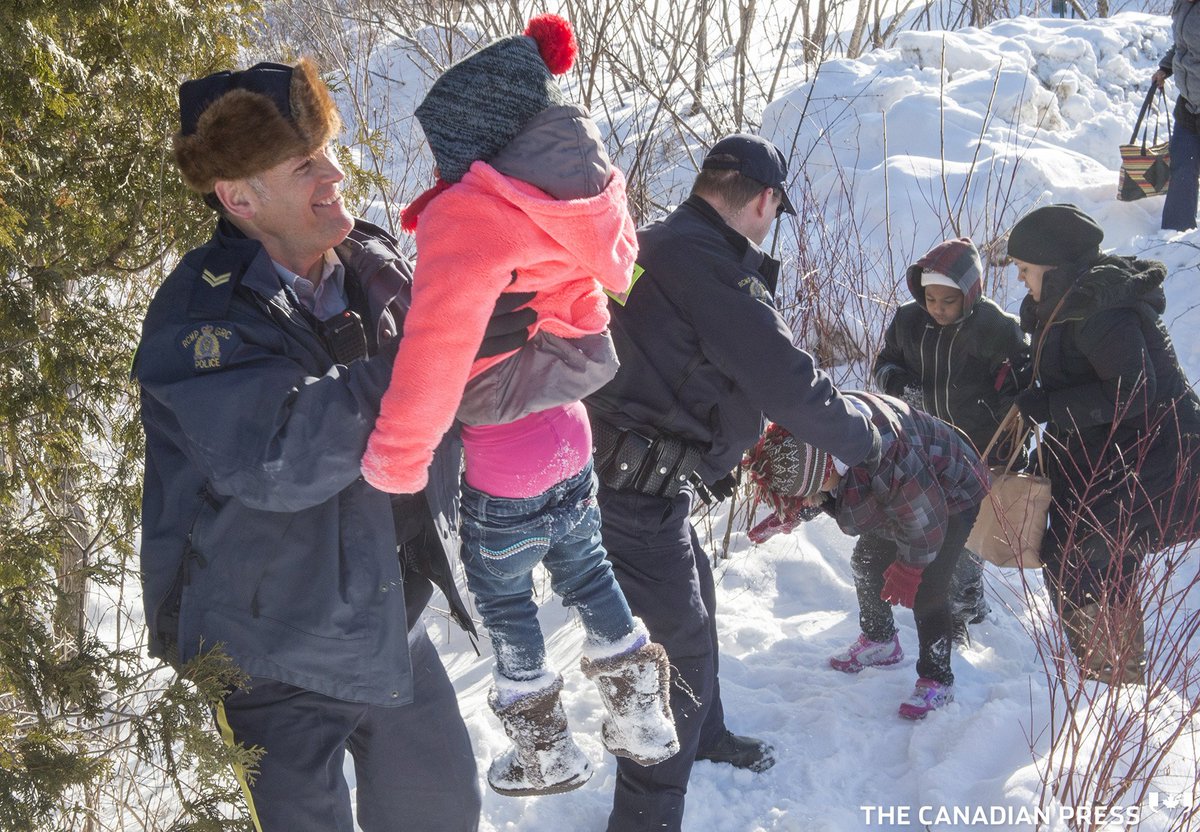 Wearing a fur-trim hat and winter gloves, the Royal Canadian Mounted Police officer smiled widely at the young child in his arms, dressed in a grey toque, pink hoodie, and snow-covered boots.
A second officer stood behind them, reaching out to help two more, bundled-up youngsters and a woman across the snowy embankment.
"Mounties greeting refugees from Somalia who walked across the border into Canada," read the photo caption, taken by a Canadian Press photographer at an unmanned point along the United States-Canada border in southern Quebec.
The image, which went viral late last week, highlights what local officials say has been a recent surge in the number of refugees illegally crossing into Canada from the U.S. in search of protection and safety.
Almost immediately, the photograph was celebrated as evidence of Canada's inclusiveness, and the country's willingness to take in refugees and immigrants with open arms – literally.
For many online commenters, it also seemed to show how, in the face of U.S. President Donald Trump's hostile rhetoric and policies that seek to ban refugees and other immigrants, things are different in Canada.
But the photo, and way it was interpreted, belies the truth.
Despite their smiles, those RCMP officers were actually arresting the family, and taking them in to be questioned. This has been, and continues to be, the standard operating procedure for the national police force when its officers find anyone they suspect crossed into Canada illegally.
Refugees can make their claim for refugee protection after they are detained, and they can stay in Canada while their case is being processed.
Some may argue that this is the lesser of two evils, especially as asylum seekers face the prospect of being deported to their home countries or detained in the U.S.
But Canada is complicit in forcing refugees to come into the country illegally in the first place, with many now making a perilous journey on foot across the border in subzero temperatures, because it won't rescind a dangerous agreement.
That joint Canada-U.S. deal, known as the Safe Third Country Agreement (STCA), forces Canada to send anyone trying to make a refugee claim at an official border post back to the United States, which Canada considers a safe country.
Refugee claimants who are already in Canadian territory, however, will likely have their cases heard.
This is what is pushing refugees to try to get across the border into Canada on their own.
Hundreds of refugees have already fled the U.S. for Canada since late last year, fearing deportation to their home countries, and mistreatment, hostility, and a crackdown on their rights under President Trump.
Two men, fearing they would be deported from the U.S. and sent back to Ghana, where they say they were persecuted due to their sexual orientation, got frostbite after walking through waist-deep snow to reach Manitoba in late December. They spent several days in a Winnipeg hospital, and had to have several fingers and toes amputated.
Families with young children have been handcuffed on the border between Quebec and Vermont. Many refugee claimants are spending hours outside in freezing temperatures, and most come unprepared for the harsh winter weather.
But despite many horrific personal stories, which Canadian national media outlets have widely covered, Ottawa has refused to rescind the STCA.
On Tuesday, Prime Minister Justin Trudeau said his government would not block refugees from coming into Canada illegally, and "will continue to strike that balance between a rigorous system and accepting people who need help."
But the government maintains that the U.S. is upholding its obligation under the 2004 agreement, and it remains a safe country with a fair asylum determination system.
Going even further still are some right-wing Canadian politicians, who apparently feel that forcing refugees to walk across the border, and then arresting them on arrival, does not go far enough.
Tony Clement, the Conservative Party's public safety critic, suggested this week that the RCMP should be doing more to block refugees from entering Canada in the first place.
When pressed by a CBC radio host about what policy change would better handle the refugees' arrival at the border, Clement became defensive, and insisted that Canadian police "should apply the law," without going into concrete details.
He eventually hung up on the live interview.
Human rights and civil liberties groups, meanwhile, have been unequivocal: the U.S. is not safe for refugees, and Canada must rescind the agreement.