It was deeply shocking to hear of Vitaly Churkin's sudden death.

While many, including myself, speculate whether or not his death was "natural" or premeditated murder, a report published on Sputnik suggests that the actual cause and means of his death have not yet been determined.

Study Into Cause and Manner of UN Envoy Churkin's Death May Take Weeks

President Vladmir Putin said,

"Vitaly Churkin was, without exaggeration, one of our most prominent diplomats. A professional of the highest level, a man of profound intellect and extraordinary energy, charisma and a rare sense of humor, he enjoyed the sincere respect of his colleagues and a great reputation among foreign partners.

His achievements cannot be overestimated. He was entrusted with important posts at the Ministry of Foreign Affairs administration and at foreign missions. Yet, his skills were manifested most clearly in his work as Russia's Permanent Representative to the UN. For more than ten years, he firmly and consistently defended Russia's position on major international issues, sometimes in extremely stressful circumstances, which required tremendous effort and dedication. But no matter how difficult, he solved all tasks admirably and never knew defeat."

– Kremlin

A total of four high-ranking Russian officials have died on foreign soil in the past few months.

On December 19, 2016, Russia's Ambassador to Turkey, Andrei Karlov, age 62, was assassinated by a Turkish police officer in an Istanbul art gallery.

On January 9, 2017, Russia's Ambassador to Greece, Andrei Malanin, age 54, was found dead in his Athens flat. The cause of his death remains undetermined.

On January 26, 2017, Russia's Ambassador to India, Alexander Kadakin, age 67, died of a "heart attack".

On February 20, 2017, Russia's Permanent Representative to the United Nations, Vitaly Churkin, age 64, died in his home in New York of a "heart attack".

It is unlikely these events are mere coincidence.

Each individual was engaged in strengthening ties between nations – alliances that enhanced possibilities of global peace and security, that threatened the European Union, US unipolar hegemony and NATO's expanding war agenda, particularly in Africa, the Middle East.

Alexandra Valiente
Libya 360°
Syria 360°
Viva Libya! 
Jamahiriya News Agency
---
---
Remembering Ambassador Churkin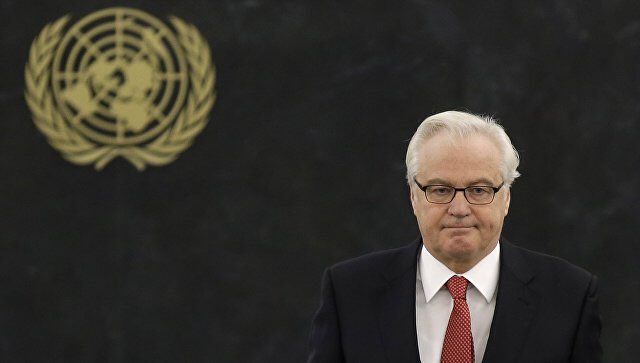 Dr Alexander Yakovenko,
Russian Ambassador to the United Kingdom of Great Britain and Northern Ireland,
Deputy foreign minister (2005-2011). @Amb_Yakovenko
Working at a United Nations mission in New York differs a lot from any embassy. Especially when it's the mission of a permanent member of the Security Council.
With the war in Iraq, intervention in Libya, and crises in Syria and Ukraine the last ten years when Vitaly Churkin represented Russia at the UN have undoubtedly been the busiest and most strenuous. On all these issues there were serious differences between the major powers, which required multilateral diplomacy. On many occasions there were non-stop, marathon sessions looking to reach a consensus, and find some common ground as a basis for international action.
All of it required an experienced diplomat and a bright personality at the head of our mission, which Vitaly Churkin was. Of course, he acted on instructions from Moscow, but he defended Russia's position with intelligence and eloquence that gained him respect, even if sometimes it wasn't enough to bridge the differences. This is made abundantly clear by the international response to his passing, including from his colleagues in New York.
He was one the best representatives of his generation in Russia's diplomatic service. He always spoke up, never minced words. He was one of the first Russian diplomats, who defied the orthodox convention of speaking stale bureaucratese and, thus, helped make diplomacy human and accessible to all.
In fact, it was his generation, that took upon themselves the responsibility for new Russia, and he rightfully became one of many faces of our country and its diplomacy. His work and personality explain why his generation, with a broad view of things not constrained by any ideology or dogma, was able to reestablish continuity in our history and diplomatic tradition, well in line with the imperatives of our time.
Lavrov on Churkin's death: We walked through life side by side
Remembering their decades of friendship and shared diplomatic service, Russian Foreign Minister Sergey Lavrov has spoken of how he "walked through life side by side" with the late Russian Ambassador to the UN Vitaly Churkin, who died on Monday.
The Russian Foreign Ministry's official Facebook account shared Lavrov's emotional post dedicated to his "colleague and friend."
Saying that Churkin "passed away in the line of duty, just several hours before his 65th birthday, Moscow time," Lavrov remembered how Churkin had celebrated his 42nd birthday in the early 1990s. It was in Sarajevo, "where snipers did their work on a daily basis," Lavrov wrote.
The two diplomats were appointed as deputy foreign ministers "simultaneously" in the spring of 1992, Lavrov wrote, explaining that he was in charge of work at the UN back then, while Churkin was serving in the Balkans.
Praising the late diplomat's efforts to settle the crisis in the former Yugoslavia, Lavrov shared a poem he wrote for Churkin in 1994.
Two decades later, the best way to pay respects to the Russian diplomat would be to continue with his efforts to achieve a "safer and more democratic world," the foreign minister said during an official meeting on Tuesday.
Speaking at a briefing following the meeting with his Swedish counterpart Margot Wallstrom, Lavrov called the ambassador to the UN "an outstanding diplomat," adding, "Let's remember him as such, and so will the people and international diplomacy."
The important thing for a diplomat, Lavrov added, is "the ability to advocate the interests of one's country, without falling into unrestrained confrontation, looking for possibilities to unite efforts, based on the balance of interests.
"The best way to pay respect to our friend will be to continue working on creating the basis for a calmer, safer, more democratic world," the Russian foreign minister went on to say.
Vitaly Churkin passed away on February 20 at Russia's Permanent Mission to the UN in New York. He served as the Russian permanent representative to the UN for a decade, and was in diplomatic service for over 40 years.
Diplomats across the globe expressed their shock at Churkin's sudden death, and people have been bringing flowers to the Foreign Ministry building in Moscow.
In a heartfelt interview to RT, UN special envoy for Syria Staffan de Mistura said Vitaly Churkin was "not only an outstanding ambassador and a remarkable professional," but also a "very special" person.
"I lost a friend, the UN and the Russian Federation lost one of their best diplomats," he said, adding that 10 years of his career in the UN were "associated with Vitaly being there."
In different periods, de Mistura was a special representative in Iraq, Afghanistan and now Syria, and "in each of these cases, [Churkin] was always professionally, competently supportive," the UN official said. He added that the late Russian ambassador always treated his colleagues with respect, and had "a personal understanding of the other [side's] position from a human point of view."
"Even when he criticized me, and criticized the UN, he did that with grace, professionalism and a touch of warmth," de Mistura said.
"He will leave the legacy of an ambassador who always stood very firmly and very effectively for the strategy and policy of his country. He never appeared to have any doubts, [he did his job] showing that he believed in what he was saying – these are qualities that you don't find in any ambassador. He had it," de Mistura told RT.